In the Kootenays, we take our winter in stride and we take them outside.  Since we have a true-love for the outdoors, hibernating is not something residents and visitors in the region aspire to.  Here are our top suggestions of what to do with all of the white stuff, for non-ski enthusiasts:
When you want to warm up from exploring, then we have the hot springs — five that are accessible in the winter time.  Easy to get to soothing springs, like Ainsworth Hot Springs Resort (with its natural cave) to Radium Hot Springs (nestled in Kootenay National Park).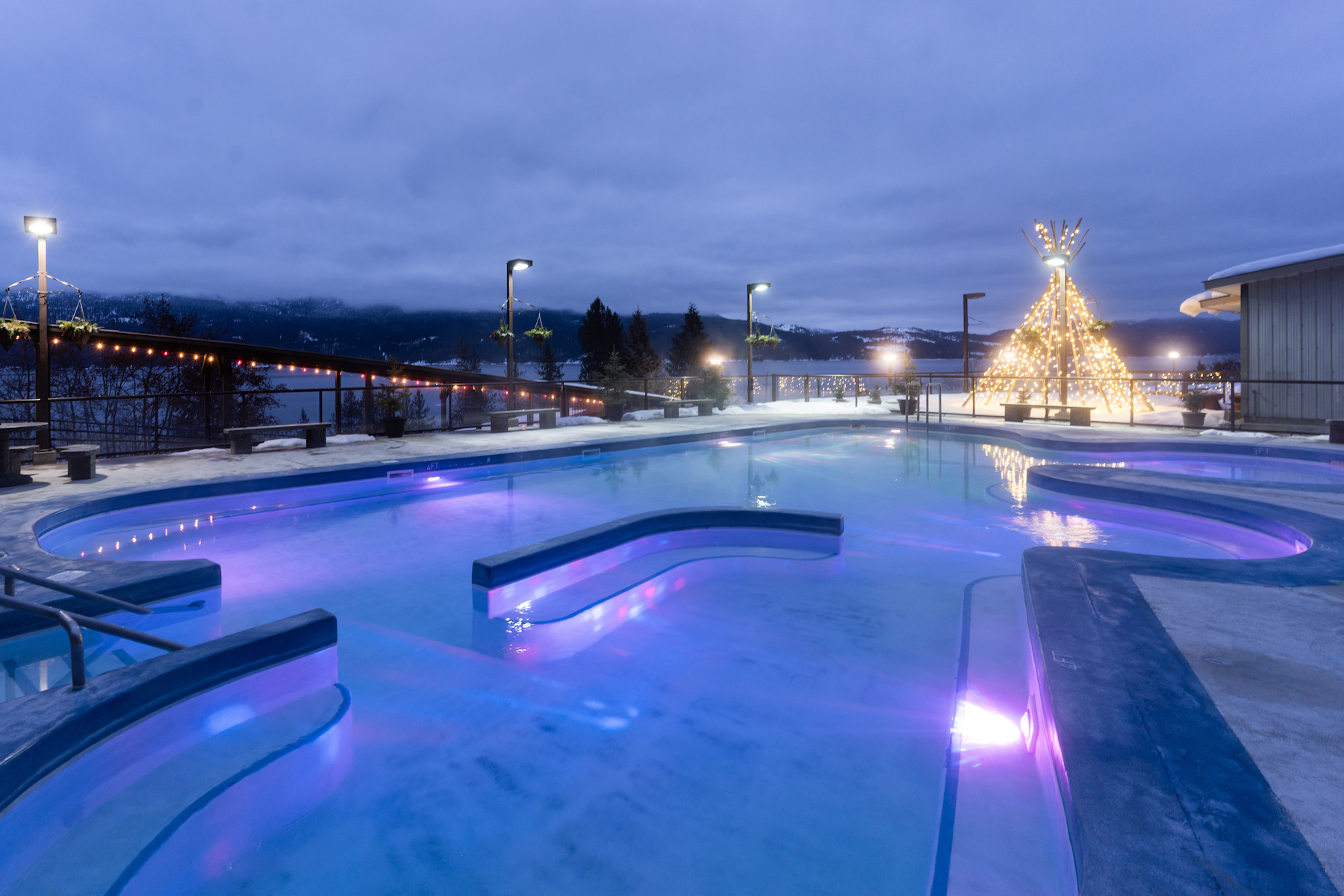 2 – Ice Skating
Most of our funky Kootenay towns offer ice-skating on local lakes and ponds.  There is nothing like strapping those skates on and gliding on an open surface, under a beautiful winter sky.  And be sure, to check out the World's Longest Skating Path – "The Whiteway" on Windermere Lake (connecting the communities of Windermere and Invermere).  Visit each community's visitor centre to find out the current 'local lake' conditions.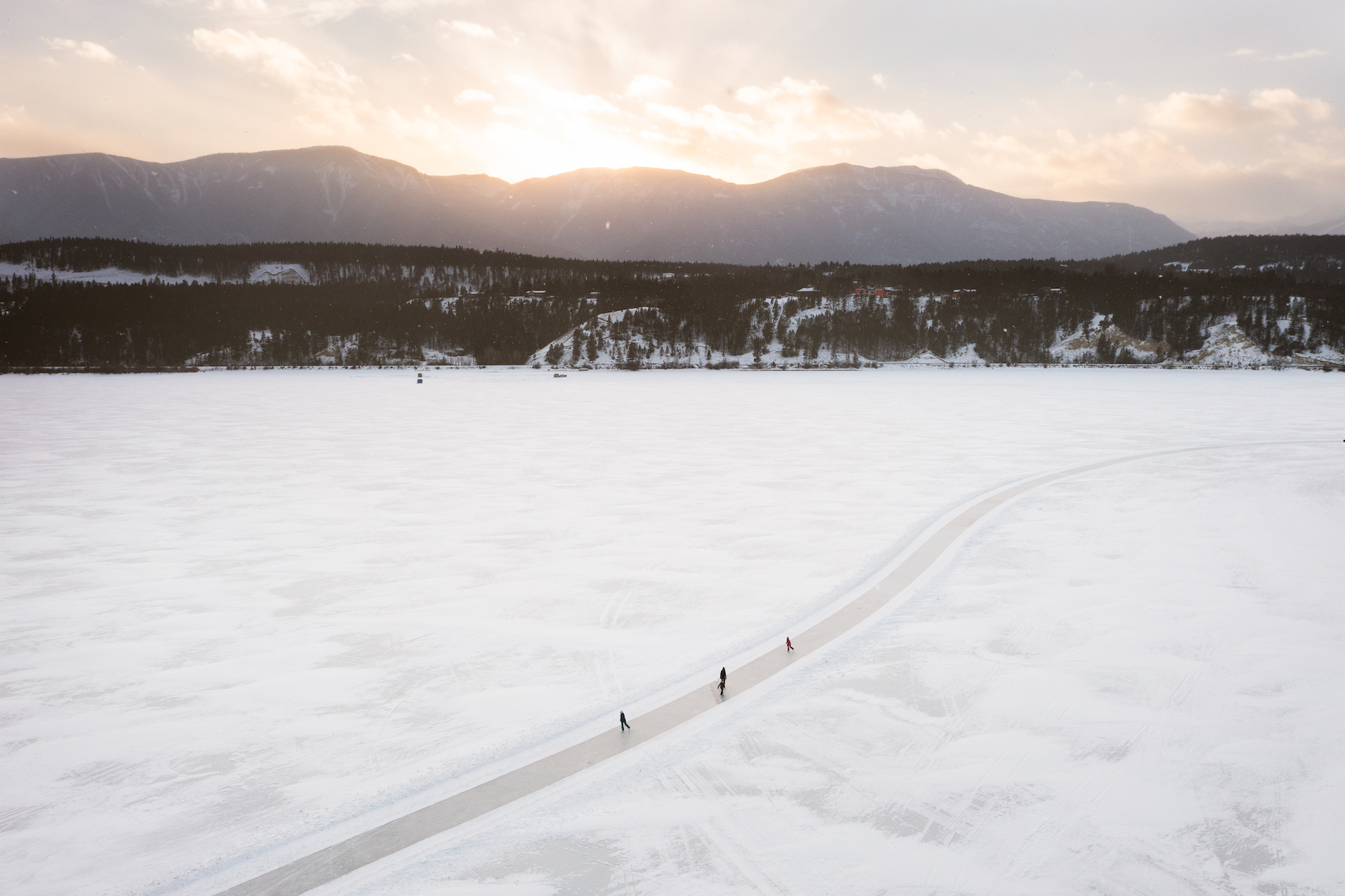 3 – Fat Biking

Love to bike? Here in the Kootenays snow doesn't stop us — and to make it more accessible, we have groomed trails too!  So, rent a fat bike for an exciting new work-out and a fun day exploring the packed routes in our mountain communities.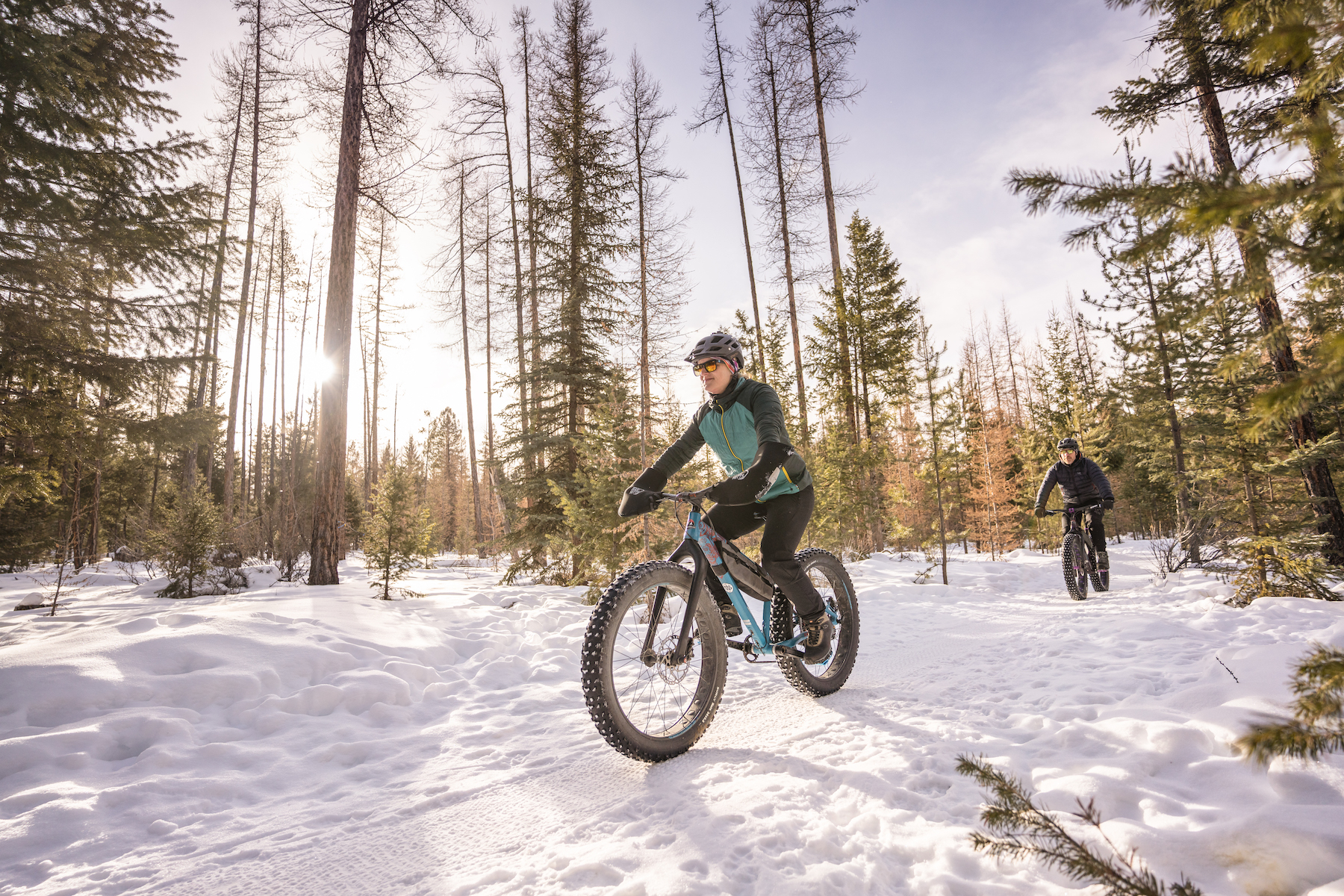 4 – Snowmobiling
Experience mountain sledding in the Kootenay Rockies. From the Rockies to the Selkirks and the Monashees, there are over 3,000 kilometres of maintained snowmobile trails. Through valleys and passes, these trails take riders to snowmobiling areas in world-class mountain ranges.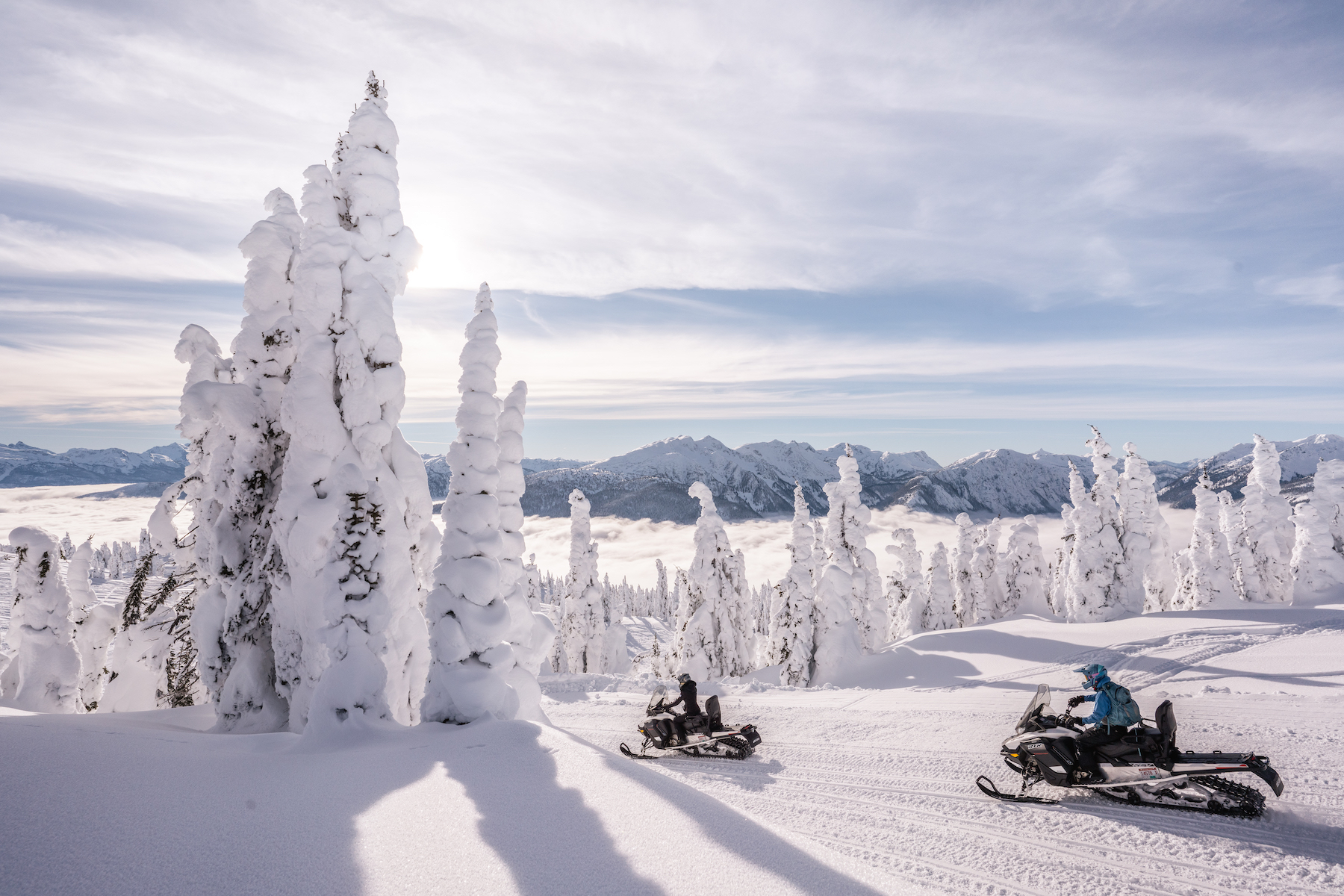 If you can trek, then in all likelihood you can snowshoe too.  It's relatively easy and a great way to get outside and explore – and in the Kootenays we have some amazing trails with natural beauty around you and breathtaking views in all directions.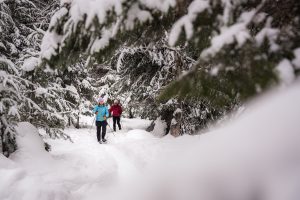 BONUS – Dog Sledding
If you like dogs be sure to book an adventure with the Revelstoke Dogsled Adventures.  They offer guided dogsled tours through the beautiful Revelstoke area. Working in conjunction with the Revelstoke Mountain Resort (RMR), they are easy to find and booking can be made through the RMR Revelstoke Outdoors Centre.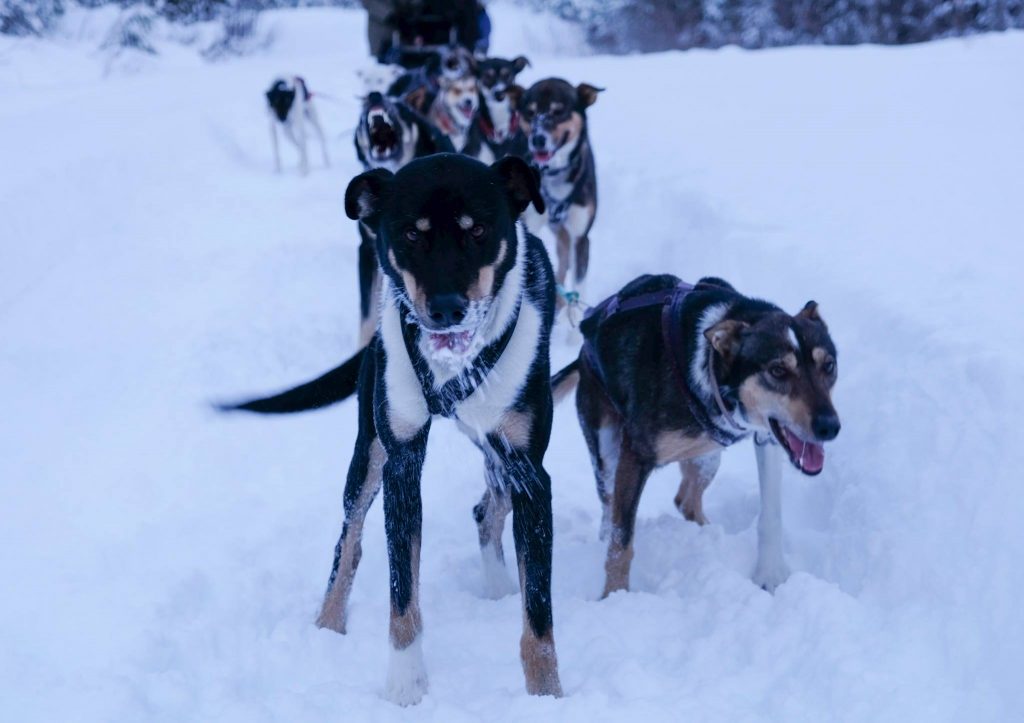 Know Before You Go – Plan ahead so you can travel safely and responsibly. Familiarize yourself with weather, road conditions, general alerts for travellers and provincial health orders & recommendations.
Related Stories
~ EV Powered Turns on a Powder Highway Road Trip
~ Funky Finds on the Powder Highway
~ Getting into Hot Water: Kootenay Hot Springs
~ Invermere's Whiteway: And All things Winter
~ Kootenay Winters: Why We Love Them
~ Our Kootenay Winter Celebrations: Along the Powder Highway
~ Outdoor Skating: Gliding on Frozen Lakes in the Kootenays
~ Powder Highway 101
~ Powder Towns on the Powder Highway
~ What's New on the Powder Highway?
Cover/top photo by Zoya Lynch, snowshoeing in Radium Hot Springs.
Please tag your images with @PowderHighway and @KootRocks on Instagram to be featured in a future social post.  For travel deals and specials – sign up for our Consumer Travellers Newsletter.