As the snow billows up over the hood of your machine, and you are hit in the face by a soft, cold powder, the sensation of weightlessness forces a giddy giggle to erupt from deep within.
This is snowmobiling in the Kootenays.
Whether it's your first time on a sled, or you sweat exhaust fumes, every winter the Kootenay's bottomless powder attracts sledders to the region for a variety of events to fuel your 'brapping' addiction. There are options for trail rides, or big mountain exploration, and everything in between.
Cranbrook will be hosting the second annual CBK-X Winter Blitzville this Family Day long weekend (February 15, 2020). The event features X-Games champion, Brett Turcotte and his Monster Energy team performing their freestyle antics in downtown Cranbrook. "With the fireworks, the rail jam, and all the other activities at Winter Blitzville, its an awesome Family Day weekend event. A definite highlight will be watching the snowmobilers launch themselves 3-4 stories in the air to do their stunts," says Cranbrook Tourism's Kristy Jahn-Smith.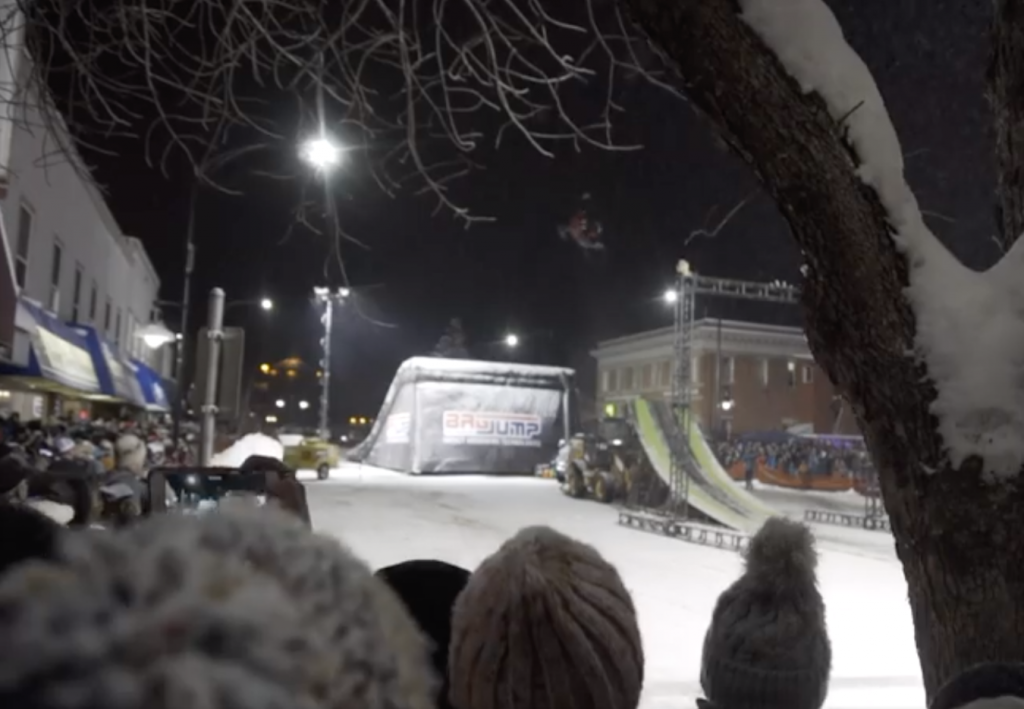 Photo courtesy of Cranbrook Tourism
If your travel plans are taking you through Fernie this year, the Vintage Snowmobile Poker Derby (February 15, 2020) at the Corbin Cabin will be sure to be a blast from the past. And for those with a need for speed, be sure to visit in early March during Griz Days (March 6-8, 2020), and catch the suped-up and tricked-out sleds competing in the Sled Drags.
Another area well known for its snowmobiling, and access to big mountain rides is Golden. One of the most iconic end-of-season events occurs in the Quartz Creek area just west of Donald. The GT or Die (April 18, 2020) event brings people from all over the Kootenays for an event filled with sled laps, BBQs, and the main event, a GT Snowracer race.

Specialists in guiding first-time snowmobilers from around the globe, Toby Creek Adventures is an award-winning operator based in Invermere-Panorama. They offer a variety of tours in the Panorama area. The Winderemere Poker Run is being held on March 7, 2020.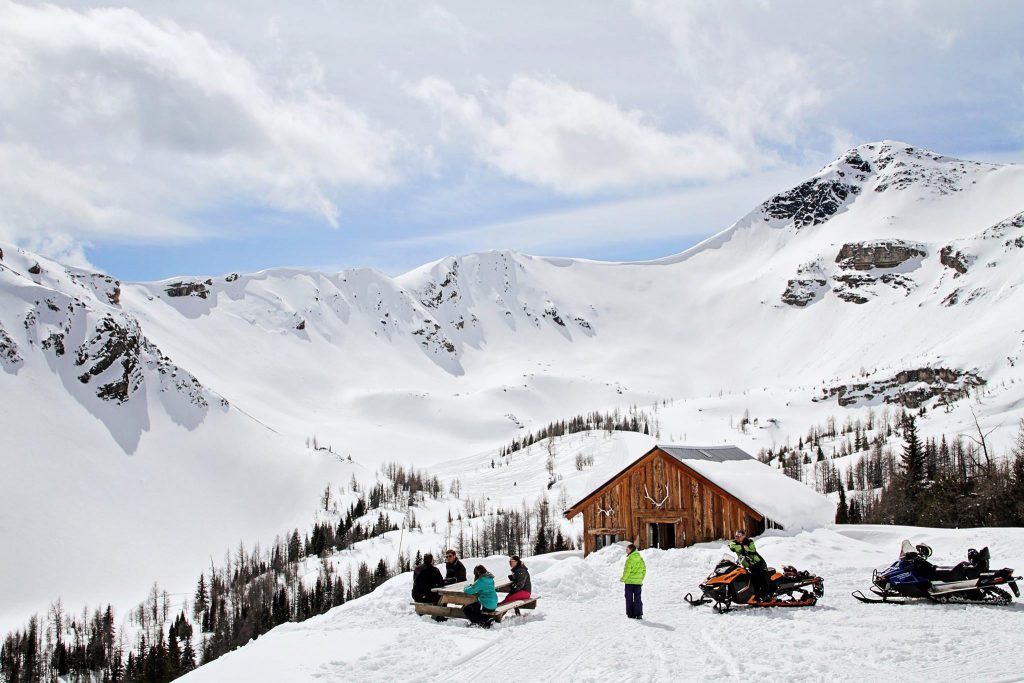 Photo courtesy of Toby Creek Adventures at Panorama Resort

Revelstoke has become a bit of Mecca for sled enthusiasts, with a network of trails, and zones to explore, not to mention some of the deepest snowpacks in North America. The area has deservedly become one of the top destinations in the world for snowmobiling.
Great Canadian Snowmobile Tours offers all-inclusive tours, with trips to local hot springs, guiding services, as well as skills development camps and the opportunity to ride with experienced coaches and pro snowmobilers. "One of the biggest events in the Revelstoke area is the Spring Fling on March 21, 2020 that features local legends showing their skills, and everyone enjoying a great BBQ and some live music," says Kathy Berlingette of the Revelstoke Snowmobile Club.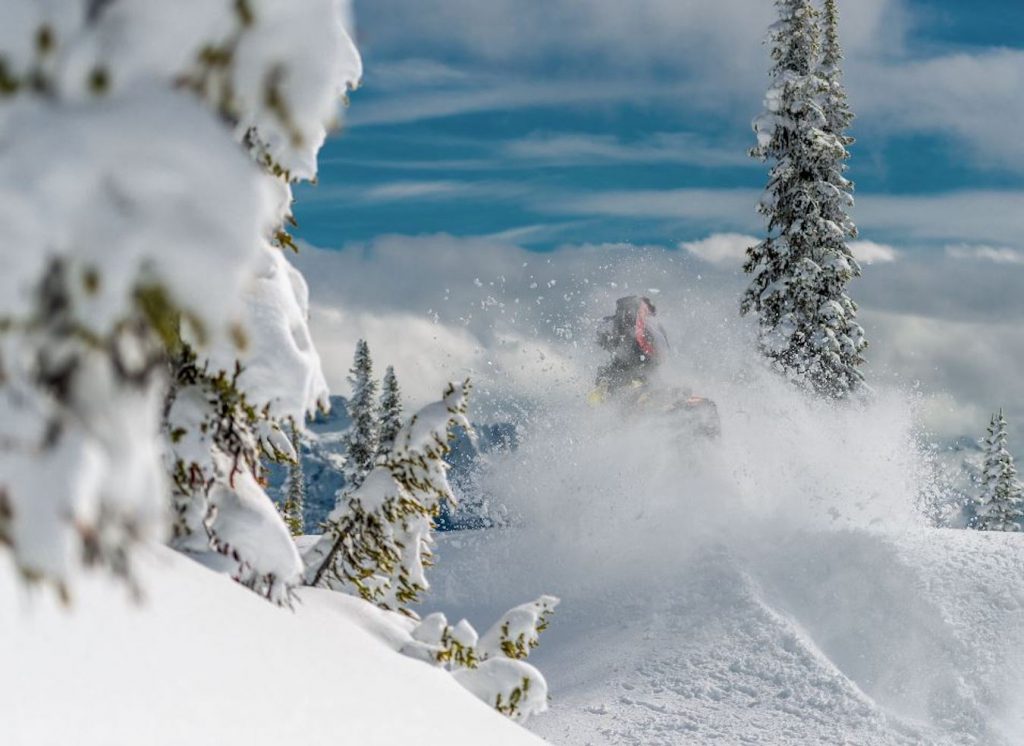 Photo courtesy of Great Canadian Snowmobile Tours
Know Before You Go – From fast-flowing trails to pristine off-piste backcountry, snowmobiling is a popular winter activity which allows participants to experience winter's splendor in the great outdoors. Like all recreational activities, there are inherent risks that require snowmobile riders to act responsibly by being prepared and making good choices. Ensure that you are properly trained and equipped to survive a night outside or to help others in need. You should also be aware of the following specific safety issues associated with snowmobiling. BC Adventure Smart is a great resource to help you get informed before heading into the outdoors!
Related Stories
~ Kootenay Winter Traditions – Along the Powder Highway
~ Our Kootenay Winter Celebrations: Along the Powder Highway
~ Snowmobiling in the Kootenays: Where to Go
~ Top 6 Things to Do with the White Stuff in the Kootenays
Top/cover photo courtesy of Great Canadian Snowmobile Tours in Revelstoke, BC. 
Words by Kyle Hamilton. Kyle is a local Kootenay photographer who ended up settling in Fernie, BC.  He has love for the mountains and it has led him to focus on photography of mountain inspired activities. You could find him on a side of a mountain in -25C winter conditions with snow blowing around him shooting a heli-skiing event or next to a gentle mountain in the summer with one of his wedding clients… either way you could see him out exploring the areas around Fernie.
Please tag your images with #KootRocks on Instagram to be featured in future stories.