#1 – Ski/Ride within the Resort's Boundaries and Follow all Posted Signs
Regardless of your background as a skier or snowboarder, it is your responsibility to lookout for flagging, bamboo, fencing, poles and signage to keep you and those around you safe on the slopes. Different signs and markers are important for our safety because they indicate types of conditions, ski boundaries, hazards, obstacles and warnings on the slopes.
Kimberley Alpine Resort, for example, has the following signage that is popular at their resort: Ski Area Boundary – Not Patrolled, Marginal Skiing & Closed – Avalanche Danger. During high risk periods, areas at the resort will be closed for avalanche work to ensure safe skiing. 
Other types of resort signage you might find at ski resorts such as Whitewater Ski Resort include: Exclusion of Liability, Resort Closed, Travel beyond not recommended, Caution Tree Wells, Caution Snowmobile Route & Caution Un-groomed Slope. As you can tell, ski resorts have a variety of different types of signage and if you need clarification, ask a ski patroller or a a chairlift attendant.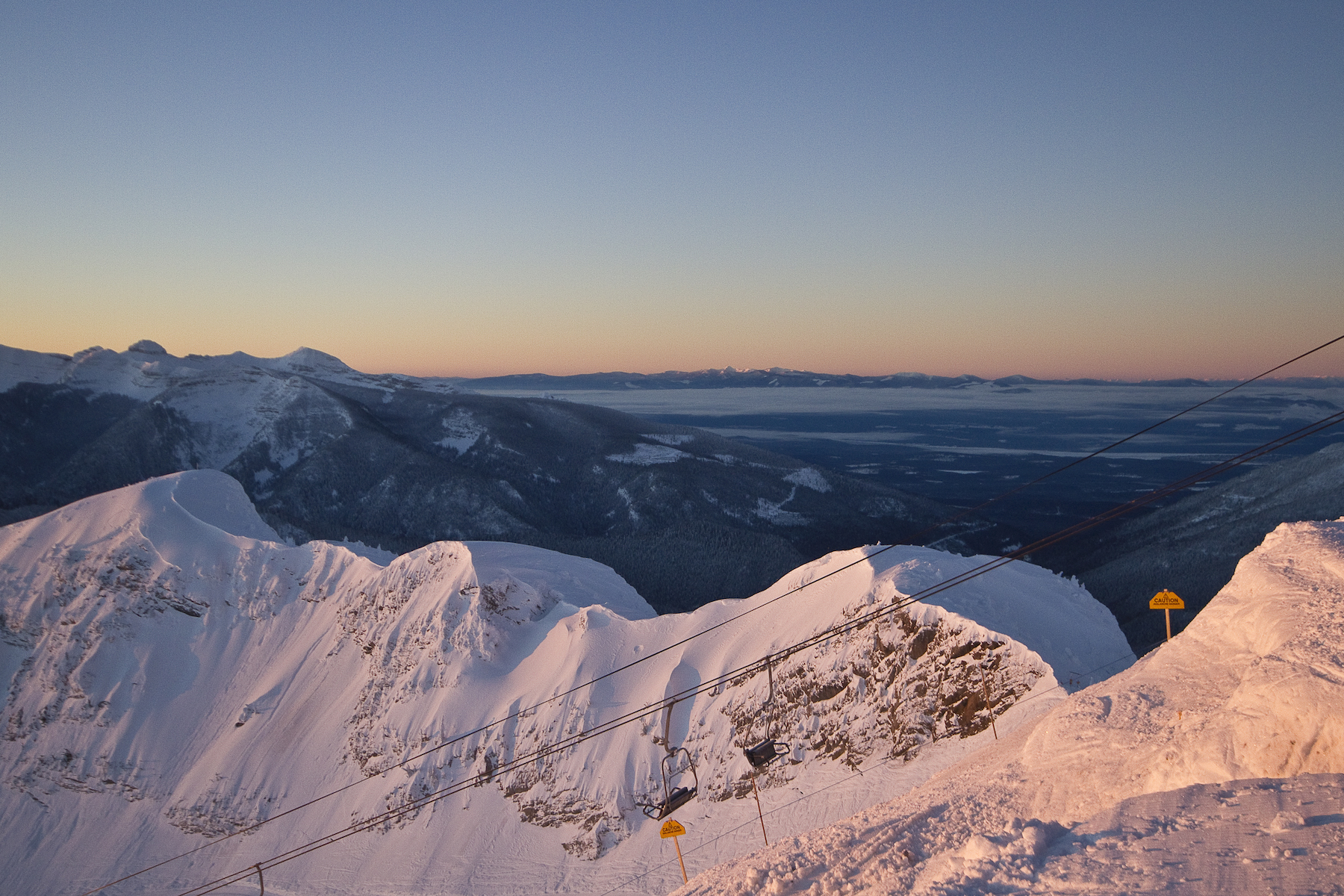 #2 – If You have Little Rippers, Don't Let them Ski/Ride Too Far Ahead
While children bring a lot of enthusiasm and joy to the resorts, it's important that they don't ski/ride too far away from you. If your children can ski/snowboard in control, know the rules of the mountain, have resort knowledge, and are confident to reach a meeting place in case they get lost, then they may be permitted some independence on the resort. However, children are your responsibility, and supervision may be necessary for their safety. 
If you don't have much spare time on your hands to spend with your children, most resorts along the Powder Highway offer a variety of options to improve your child's skiing or snowboarding ability, such as kids holiday camps, ski schools, ski teams & day care facilities.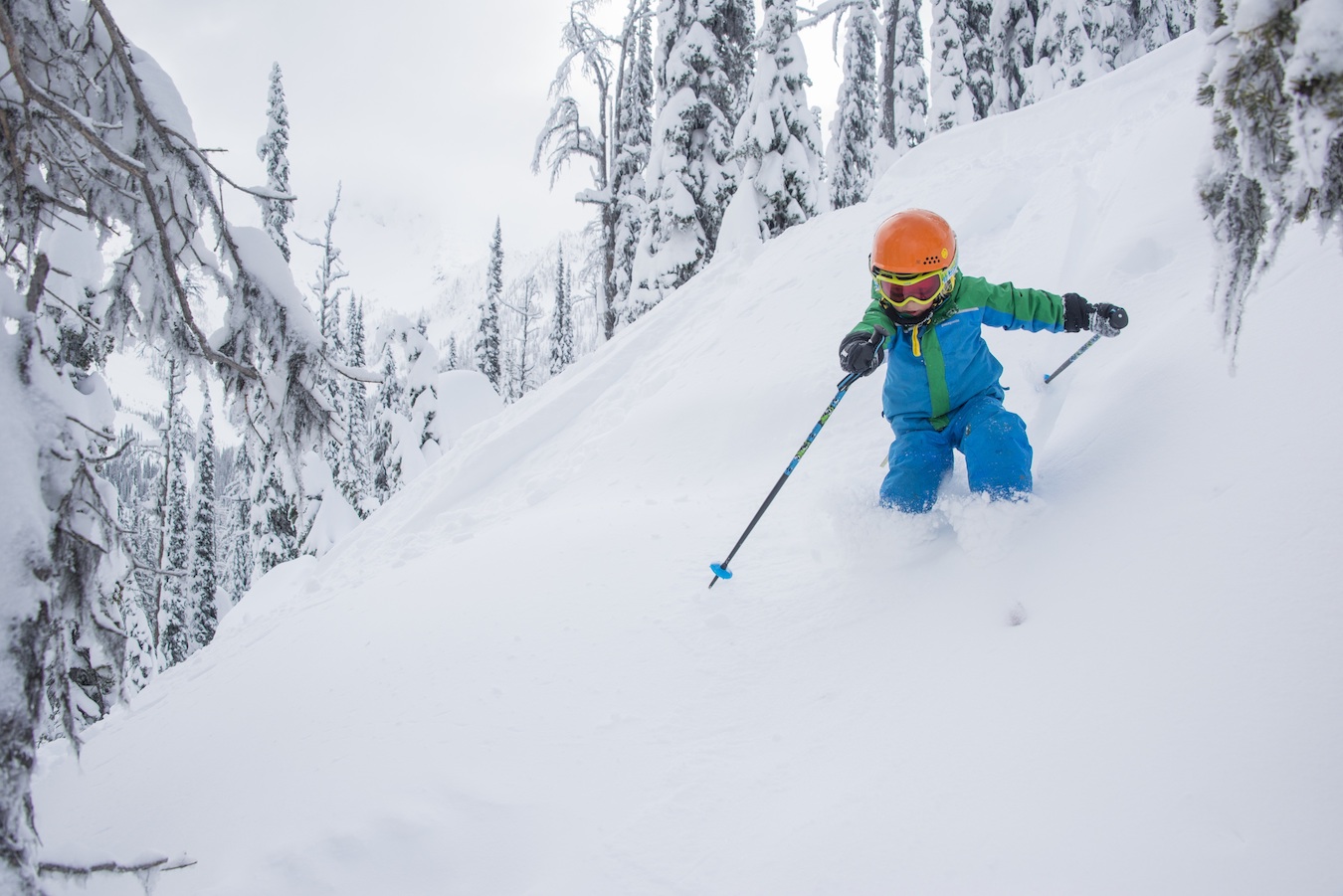 #3 – Know Your Limits, not all Ski Runs are the Same + Alpine Responsibility Code
Even if you are an intermediate to advanced skier/rider, it's important to be aware that even though runs are assigned a blue circle, blue square or black diamond, ski runs may vary based on terrain. Panorama Mountain Resort suggests that skiers and snowboarders should work their way up, beginning always with the easiest trails, regardless of what their experience may be. On longer ski resorts, such as Revelstoke Mountain Resort (1,713 metres vertical) and Kicking Horse Mountain Resort (1,315 metres) it's important to conserve energy and to consider how fatigue may impact your ability to ride on the mountain. 
Even if you are an experienced skier, it's important to be aware of the different hazards that may exist on the terrain. When you are riding in the trees, both RED Mountain Resort & Whitewater Ski Resort recommend partnering up with a friend, staying within visual and voice contact, and to carry a whistle for your own safety. This is because tree wells are a real natural hazard, and quick responses are necessary in rescuing a trapped skier. 
If you are riding on groomed and other parts of the trails, some recommendations from Revelstoke Mountain Resort include: to be ready to slow down to avoid objects or people at any time, make note of places where you'll want to slow down, and to give other guests plenty of space, especially if you are passing them.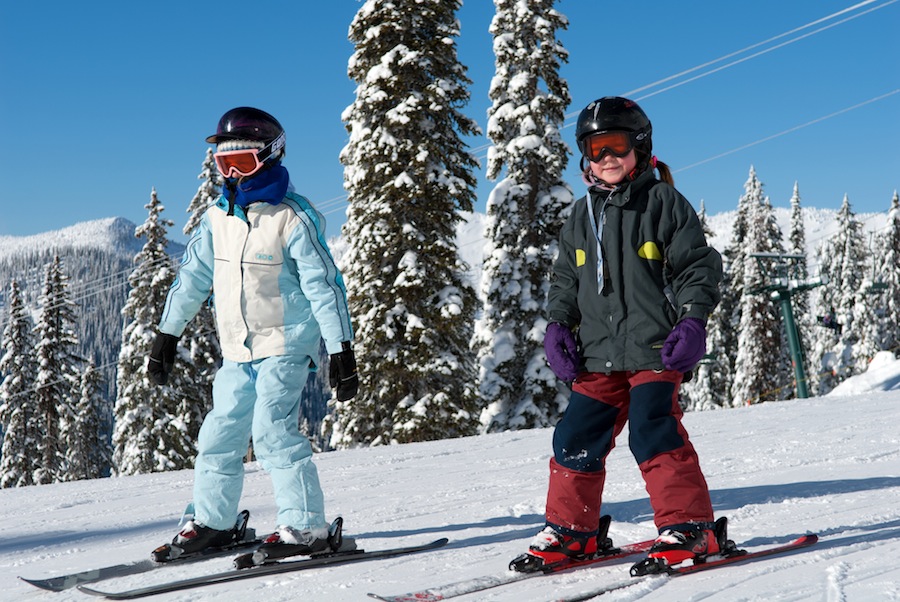 #4 – Set a Meeting Point each Day + Set-up Check-in Points
There is safety in numbers, as the saying goes, and it's no different on the mountain. It is much safer to ride with friends, than to be alone. However, if you find yourself to be alone, here are some precautions that our ski resorts suggest. Panorama Mountain Resort suggests a check-in system, where you let a friend or family member know that you are skiing/riding, and to request them to call you a few times in the day to make sure you are doing well. If not, the Panorama Patrol is always around for assistance too. 
If you lose your friends, which can happen on a busy powder day, setting up a meeting point can be crucial in finding them again. Popular landmarks can be restaurants, lodges & gondolas. For example at Revelstoke Mountain Resort common meeting spots include 'The Outpost, Revelation Lodge, & The Rockford' and the bottom or top of the Gondola. 
#5 – Unfamiliar with the Resort? Sign-up for a Ski (Snow, Mountain) Guide to Get an Overview
If it is your first time at the resort with you and your family, most of the ski resorts have a variety of tours available to help get you familiar with the terrain. The following resorts: Fernie Alpine Resort, Kicking Horse Mountain Resort, Kimberley Alpine Resort, Panorama Mountain Resort, RED Mountain Resort and Whitewater Ski Resort offer 1.5-2 hour complimentary tours with their knowledgeable professional guides. 
If you are looking to hire private guides, all of the resorts offer them too. For example, Whitewater Ski Resort offers 'In Deep' resort guides, who will help you and your friends find the best powder of the day. RED Mountain Resort offers 'Pro Mountain Tours,' which are customized tours depending on your level and experience on the slopes and the Kimberley Alpine Resort, also offers ''First Track Guided Tours', an exclusive early access up the lift with one of their top ski/ride pros as your personal guide.
If you are interested in backcountry services, Whitewater Ski Resort offers 'Summit Mountain Guides' and 'Kootenay Mountain Guides' to help you access backcountry ski touring more confidently. Kootenay Mountain Guides even go a step further by offering lodge trips, traverses, and basecamps.  
#6 – Dress for the Day
Whether you're planning your day for sunny park laps or stormy powder turns, it is important to come prepared for the conditions ahead. Across all ski resorts, it comes at no surprise that helmets are an essential checklist item. RED Mountain Resort recommends appropriate face coverings, including neck gaiters, goggles & gloves. Other resorts such as Fernie Alpine Resort, recommend wearing proper clothing and layers to protect from frostbite and colder temperatures. Other resorts, such as Kicking Horse Mountain Resort, recommend wearing sunscreen and staying hydrated throughout the day. Remember, conditions can change quickly at a resort, so it's better to always come prepared.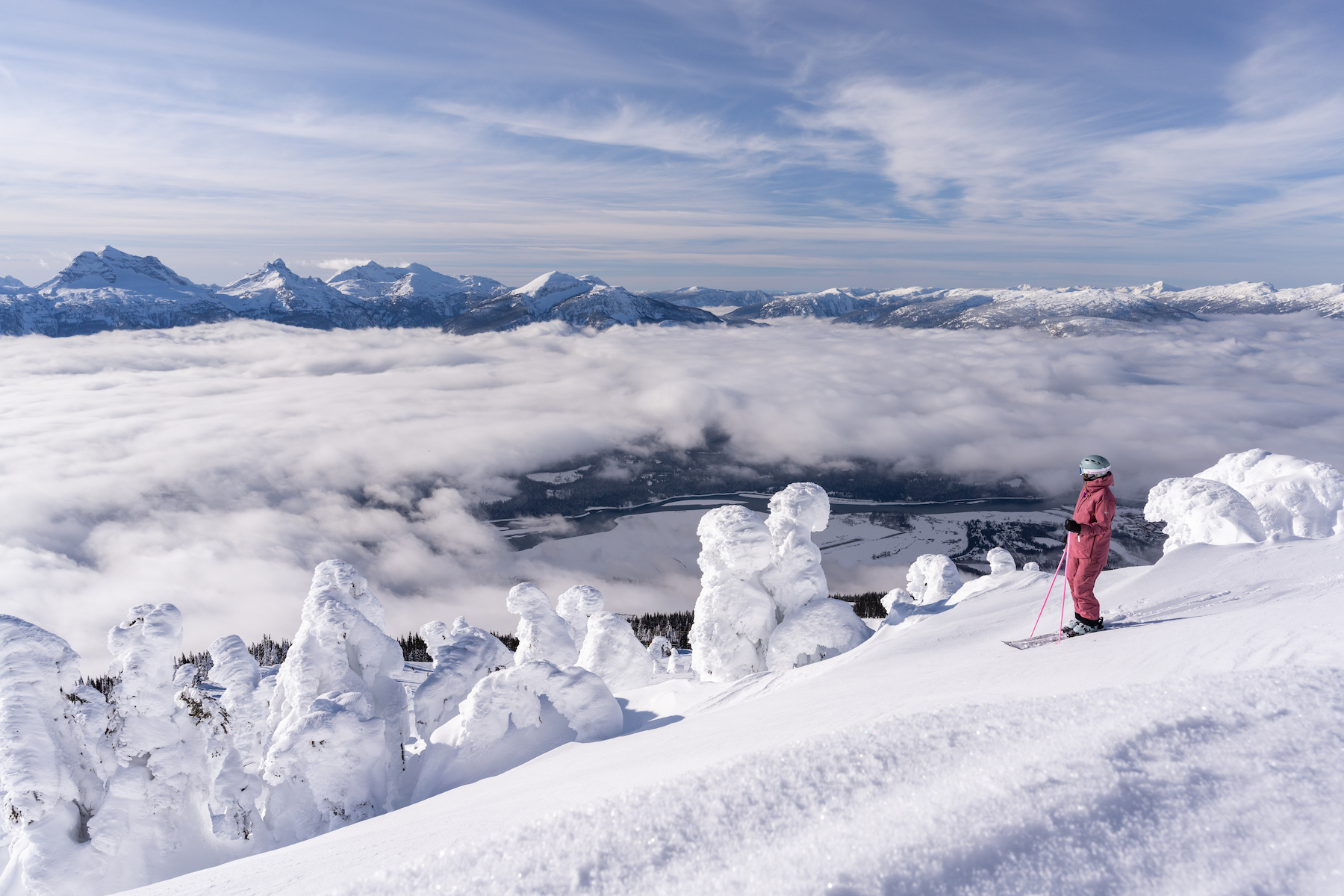 #7 – Teach your Family the Basics – Skiing/Riding Etiquette
Teaching your kids basic skiing/riding etiquette is imperative not only for their own safety, but for everyone else's too. Most resorts have guides or codes of conduct that help you learn your responsibilities on the slope. For example, most western slopes: RED Mountain Resort, Panorama Mountain Resort, Kicking Horse Mountain Resort, Fernie Alpine Resort, Revelstoke Mountain Resort, and Kimberley Mountain Resort have implemented the 'Alpine Responsibility Code' which are basic rules of conduct that must be followed on all types of terrain. Some key suggestions are 'Always stay in control, people ahead of you have the right-of-way, and do not stop where you block a rail or not visible from above.' 
Other important lessons are to observe and obey all posted signs and warnings and to keep off closed trails and obey area closures. RED Mountain Resort encourages everyone to follow a 'slope safety etiquette,' which requires guests to respect one another and give space between themselves and other riders.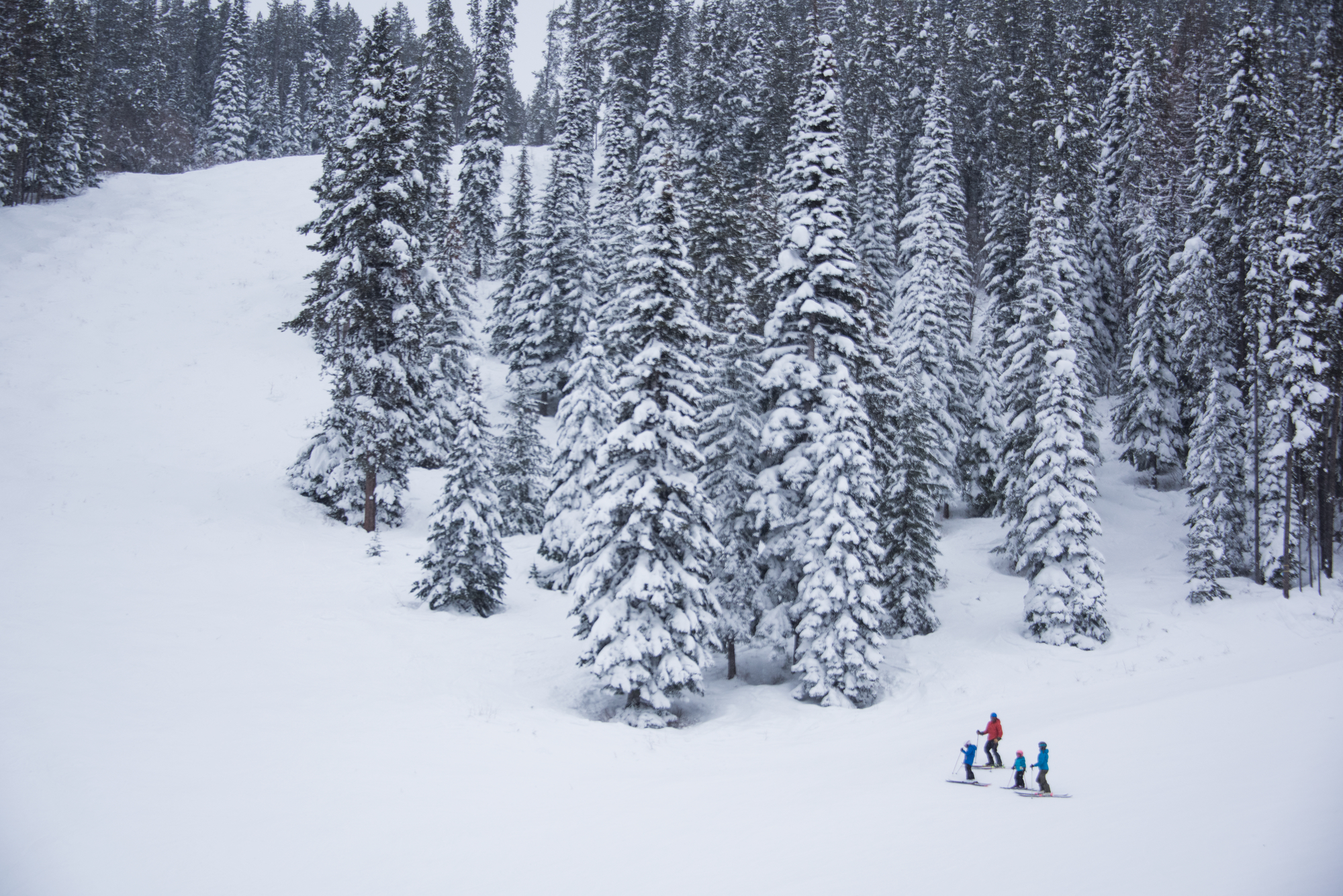 #8 – Out of Boundary/Avalanche Conditions
If you are planning on adventuring outside the ski boundaries, it is important that you are equipped with the appropriate avalanche safety gear and education. Panorama Mountain Resort recommends never skiing alone in the backcountry, and to not push your limits while you are out there. These areas have no avalanche control or ski patrol to assist you in case of an emergency. Whitewater Ski Resort suggests that before you venture out of bounds, to be equipped with a transceiver, shovel and probe, and to be educated in avalanche dangers and conditions. If you would like to practice using your avalanche safety gear, Whitewater Ski Resort, RED Mountain Resort, Fernie Alpine Resort, and Revelstoke Mountain Resort have designated beacon training areas to help improve your skills. To further enhance your backcountry education, almost all resorts also offer an Avalanche Skills Training Course 1 (AST1).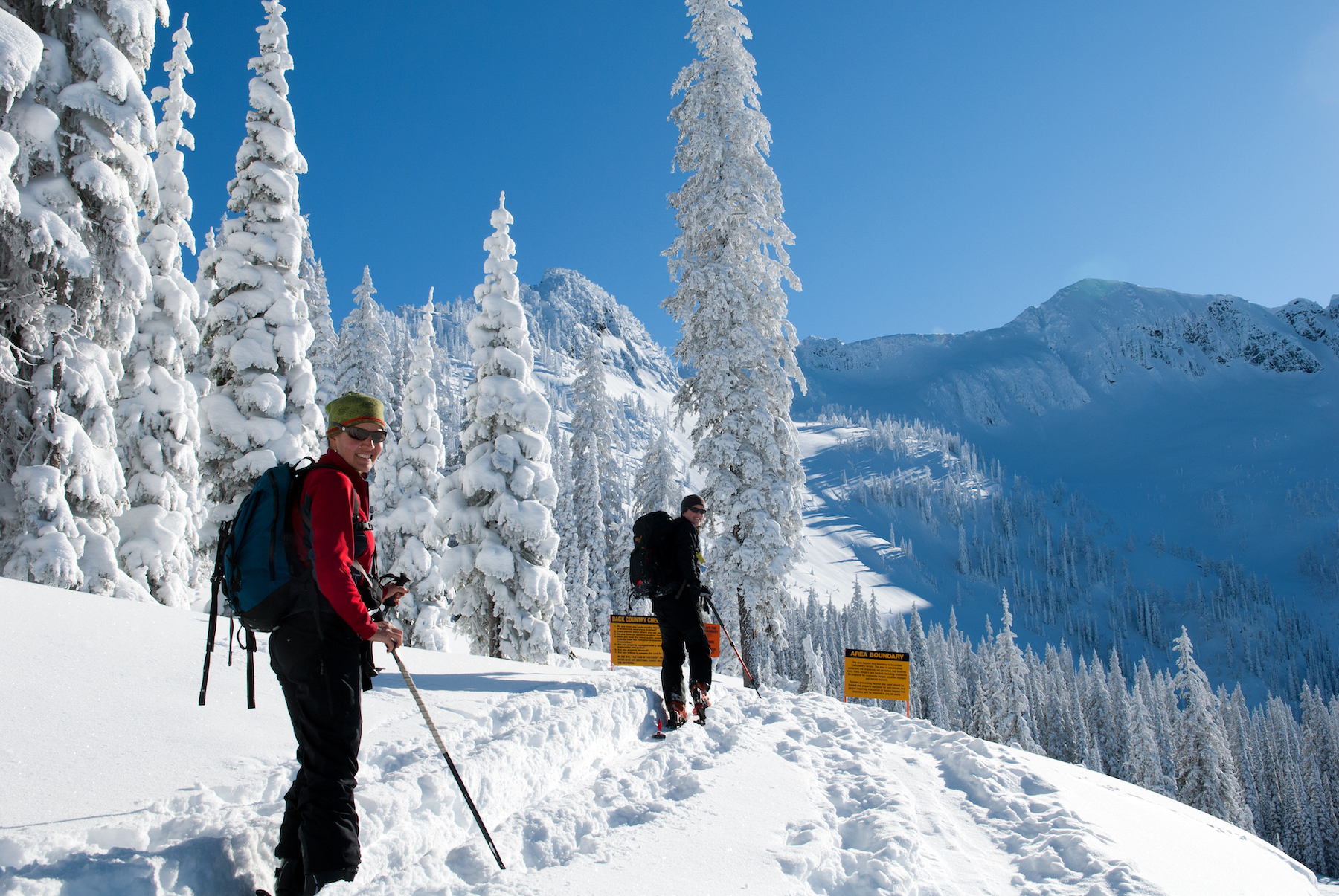 #9 – Terrain Park
Terrain parks can be an exciting place to enhance your skills with your friends. It is important to exercise safety, especially in a place that may involve higher risk. Revelstoke Mountain Resort suggests that you 'always look up slope before you drop' and to 'start small and work your way up.' It takes time to build your skills, so why not do it in a progressive manner. RED Mountain Resort also has some good tips: 'Don't stop or sit on landings and knuckles, keep landings clear, and use features in the manner in which they are intended.'
Other Resources: Avalanche Canada and BC AdventureSmart.
Know Before You Go – Plan ahead so you can travel safely and responsibly. Familiarize yourself with weather, road conditions, general alerts for travellers and provincial health orders & recommendations.
Related Stories
~ 4 Reasons to Ski-Ride the Powder Highway this Winter
~ 6 Safety Tips for your Powder Highway Road Trip
~ 72 Hours in the Columbia Valley this Winter
~ 72 Hours in Fernie this Winter
~ 72 Hours in Golden this Winter
~ 72 Hours in Kimberley this Winter
~ 72 Hours in Nelson this Winter
~ 72 Hours at Panorama Mountain Resort this Winter
~ 72 Hours in Revelstoke this Winter
~ 72 Hours in Rossland this Winter
~ Family Fun on BC's Powder Highway
~ Guiding Services: Exploring Powder Highway's Backcountry
~ Keeping it Old School: Our Community Ski Hills on the Powder Highway
~ Learn to Ski/Snowboard on the Powder Highway
~ Nordic Ski Adventures To Do this Winter
~ Our Kootenay Winter Celebrations: Along the Powder Highway
~ Powder Towns on the Powder Highway
~ What's New on the Powder Highway?
Top/cover photo by Bram Rossman at Fairmont Hot Springs Resort. 
Please tag your images with @PowderHighway and @KootRocks on Instagram to be featured in a future social post.  For travel deals and specials – sign up for our Consumer Travellers Newsletter.