As snow settles over the mountains and valleys in the Kootenays, winter enthusiasts journey along the Powder Highway in search of deep pow, cozy mountain towns  and unforgettable experiences. Whether you're strapping on a snowboard or skis for the first time, or brushing up on your technique – these legendary resorts are the perfect spot to learn.
The Fairmont Hot Springs Ski Resort located in Fairmont Hot Springs, BC and it is known for its famous mineral hot springs pools, family-friendly runs and panoramic views of the Purcell and Rocky Mountains. 
The Fairmont Hot Springs Ski Resort has everything you need for beginners to jump into the sport, and for advanced skiers looking to take their skill to the next level. They offer a variety of private lessons, group lessons & multi-week programs. With only one other resort offering this, the 'First Time Package' is a great introduction for beginners who are just getting into the sport. It includes rentals, a lesson and a ski pass. For more advanced riders, the Resort offers a season-long program with the 'Team Fairmont Racers'.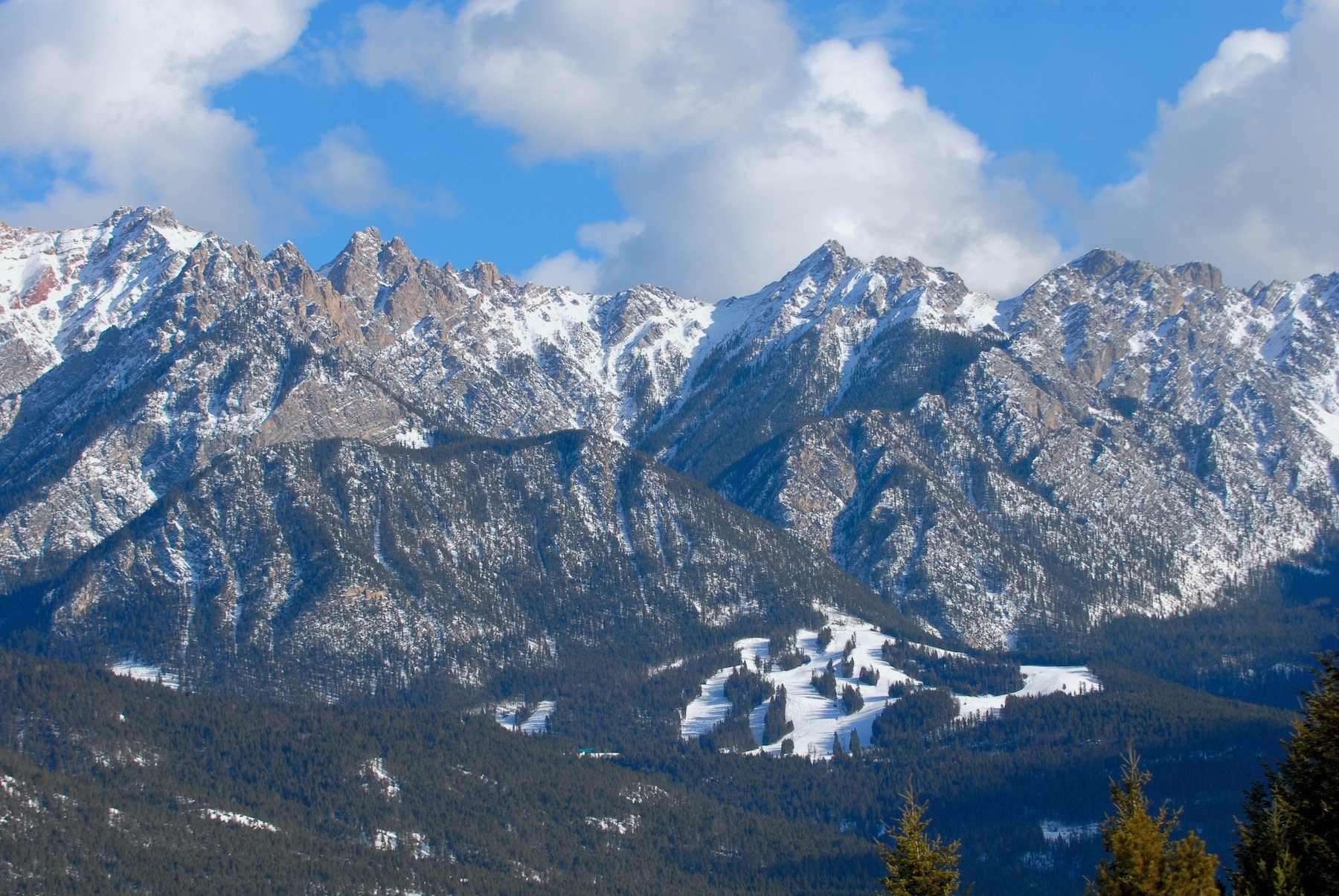 Fernie Alpine Resort, located in Fernie, BC, is known for its spectacular Rocky Mountain views, diverse ski terrain and fantastic backcountry options. Whether you're seeking wide blue runs, steep tree skiing, alpine bowls or chutes, the resort offers a great training ground for those looking to improve and develop their skills on all types of terrain. Spend quality time with your family by booking a 3 or 6-hour 'Family Coaching' session and improve your skiing or snowboarding techniques. 
There are a variety of children's holiday and park camps, adult multi week programs (6-12 weeks), "first tracks" opportunities, and private and group lessons. For riders looking to gain confidence in more advanced terrain, 'Steep and Deep' & 'Performance Academy' camps are 2-day private coaching experiences where skiers can explore and refine their expert skills while riding on powder and steep terrain. For women, 'Early Girls' allows you to enjoy the mountain with top professional female ski coaches before the crowd does, and 'Ladies All-Mountain' is an 8-week course intended to advance your on and off piste skiing skills. Fernie Alpine Resort also offers 'Minds Eye Ski Clinic' where you can refine your skills and gain confidence skiing or snowboarding in your pre-mature/senior years. 
For those looking to get into the backcountry, the Fernie Alpine Resort also offers an Avalanche Awareness course. Unique to Fernie Alpine Resort, 'Backcountry Basics' – is a 2-day camp where guests can learn how to use avalanche rescue equipment, touring gear, uphill travel techniques and skills improvements – all in preparation for the AST Level 1. In addition to all of the courses above, instructor courses, improvement camps and private sessions with professionals are all available as well.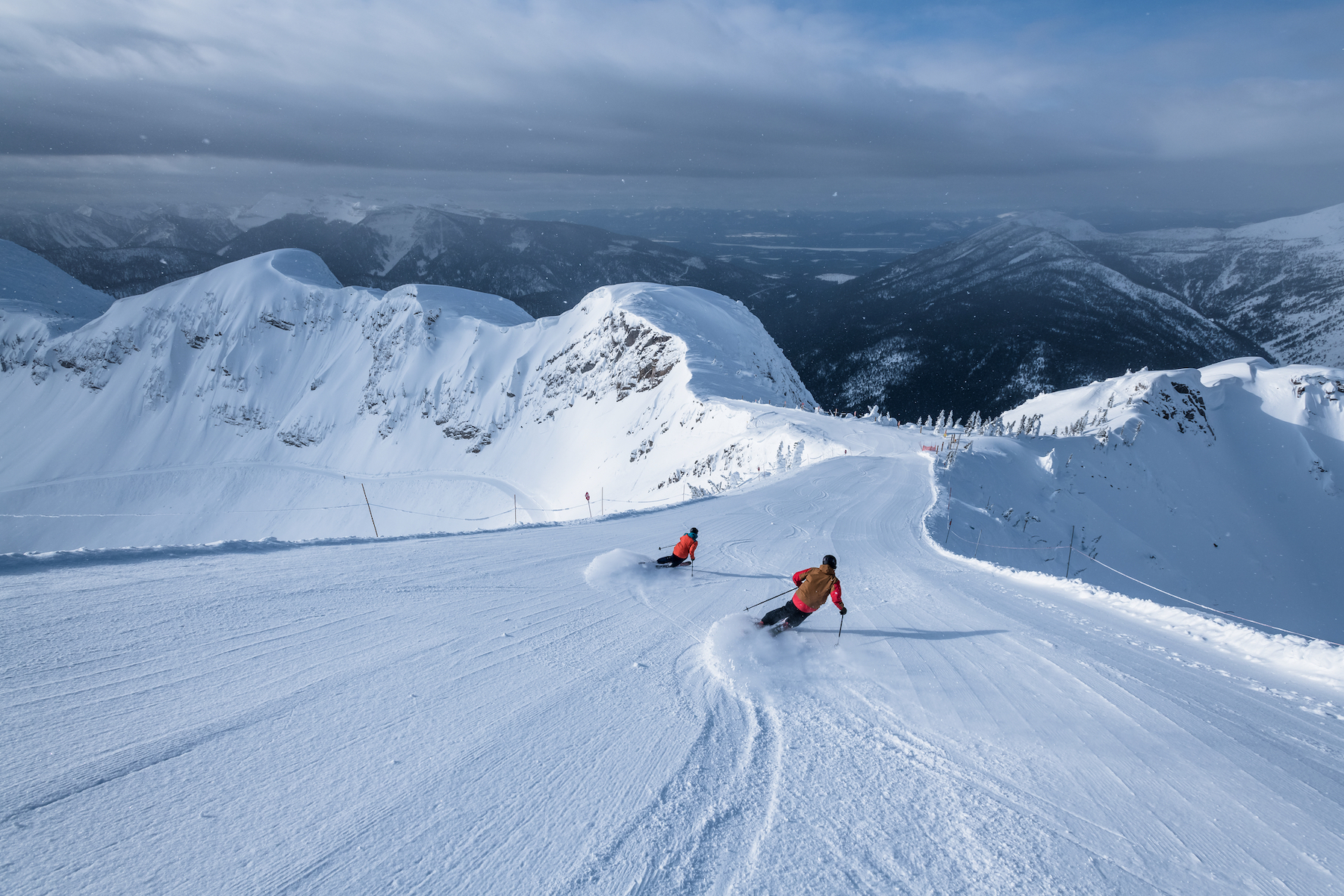 Kicking Horse Mountain Resort, near Golden, BC, is known for its ruggedness, long downhill runs, and champagne powder. While over half of the trails are black or double black runs, there is enough terrain for beginners to improve their skills on gentle groomers too.
Take a 'Private Lesson' a half or full day and work your way up from a Never Ever to Novice to Comfortable Novice skier or snowboarder.  From there you can join in with the 'Group Lessons'.
To elevate your expert level riding, Kicking Horse offers 'Big Mountain Club Sundays' to teach you how to ski technical inbound chutes and features or 'High Performance Club Sundays,' to focus on instructor development and training. 'Big Mountain Private' is a private course you can take to advance your skills on safe route finding and technical development. 
There are lots of women's specific courses to choose from such as 'Women's Powder Room Clinics' a 6-12 week course where you learn to ski powder, trees, steeps, moguls and chutes. A course that is completely unique to the Kicking Horse Mountain Resort is 'Rippin Betties' which is a women's freeride camp taught by female instructors.
Since Kicking horse has exceptional backcountry access, it comes to no surprise that the resort offers an 'AST Level 1′course, so you can be more confident in the slack or backcountry experience.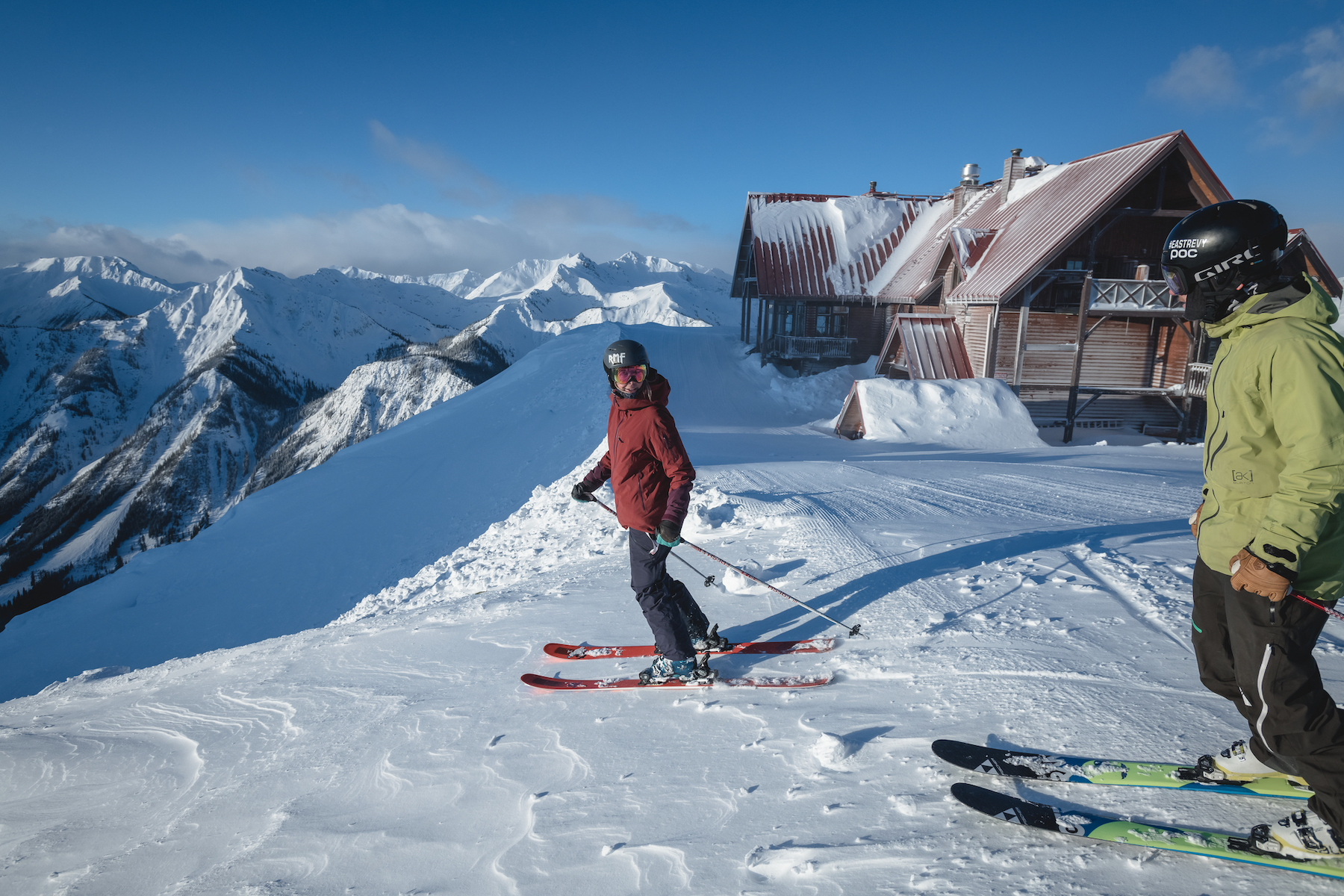 Kimberley Alpine Resort, located in Kimberley, BC is the perfect winter playground for families of all ability levels. For beginners, the front side of the resort is mostly green and blue runs, while the backside is mostly advanced terrain. 
The 'Telus Learn to Ski or Board Group Lessons' is available to "never ever & novice" skiers/riders.  Packages are your best value to learn to ski or snowboard. Participants are grouped with other adults of similar ages & abilities.
The Kimberley Alpine Resort offers a multitude of private and group lessons that cater to all ages. If you are looking to build your skills over a couple of weeks, 'Get Confident' and 'All Mountain' are 6-8 week long beginner and advanced ladies camps, while 'Bumps & Brews' is the men's advanced 6-8 week camp. The resort also offers multi day ski and snowboard Instructor training courses, which is a great way to make new friends and improve your riding. 
Another exciting program is the 'Guided Mountain Tours', which are private tours led by professional guides to enhance your skiing and snowboard abilities while showcasing secret powder stashes on the way. 'First track' tours allow you the benefit of untouched powder while accessing new terrain for an hour before the public arrives.
What is completely unique to the Kimberley Alpine Resort is that they offer 'Rec Rut Runners' which is a racing experience for you and your friends. This event is for intermediate and advanced skiers where you can enjoy an apres ski party, video analysis, draw prizes and race results.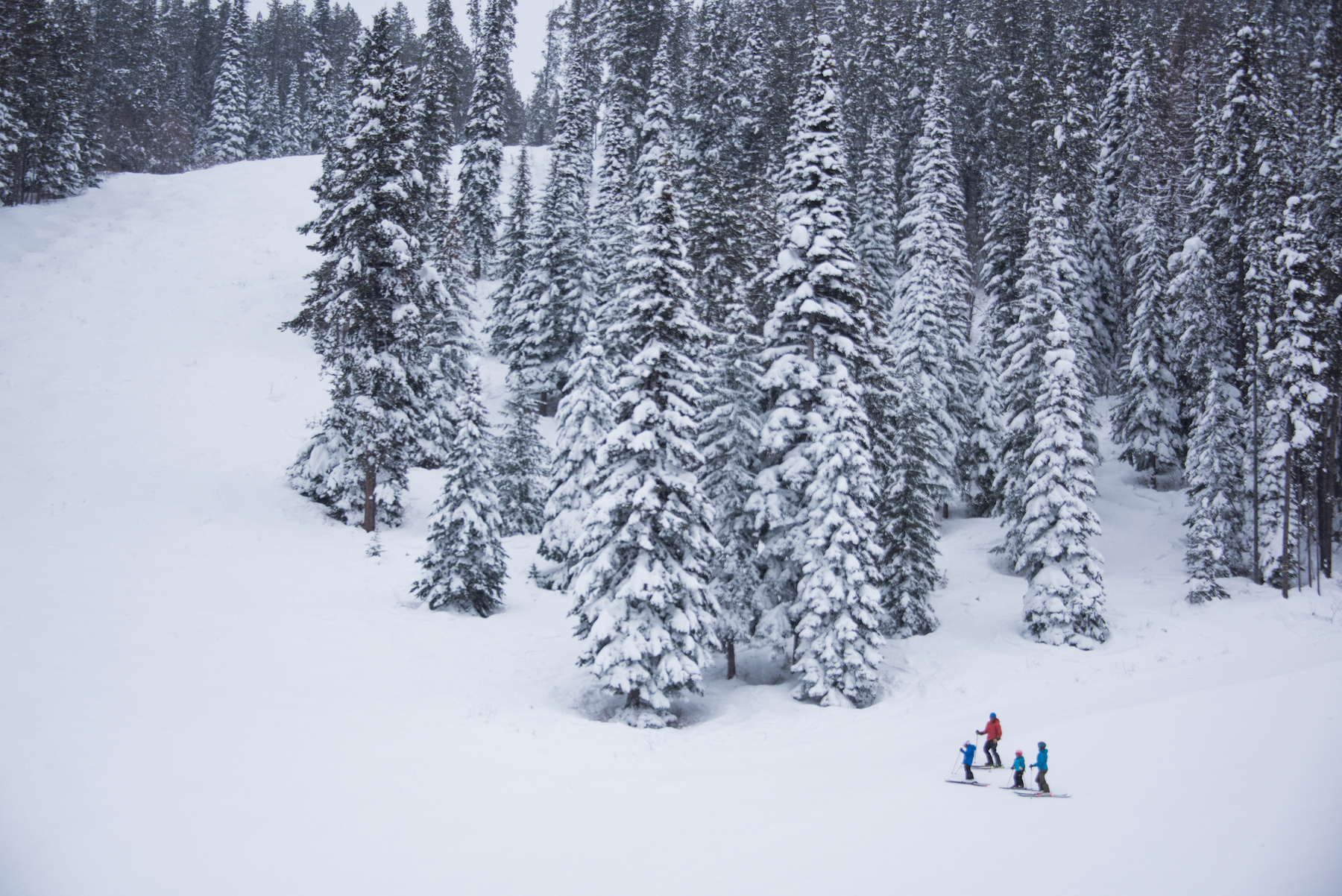 Panorama Mountain Resort, just a 20 minute drive from Invermere, BC, has been recognized as being one of the best family-focused mountain resorts in Canada. If you want to improve your technique and reach your potential, the resort boasts a wide array of different learning programs, including private, group lessons and holiday camps.
Panorama Resort offers a 'Adult Discovery Program' for those who are "first-timers".  If you are a fun-loving person that has never skied or boarded before than this program is an absolute must.
Among the exciting courses that Panorama Mountain Resort has to offer, here are a few of them: 'Womens Mountain Workshop', a multi-week ski and snowboard program is for ladies only starting in January; 'Adaptive Programs', in partnership with Panorama Adaptive Sports Society (PASS), are proud to offer ski instruction for guests with disabilities and special needs; the  'Adult Ski with the Pros' weekend with ski professionals; and the All Mountain Program' which will immerse your kids in a true big mountain experience in this 10-week program.
For those that want to learn how to travel on skinny skis, the Panorama Nordic Centre offers 'skate or classic cross country ski lessons' on the weekends.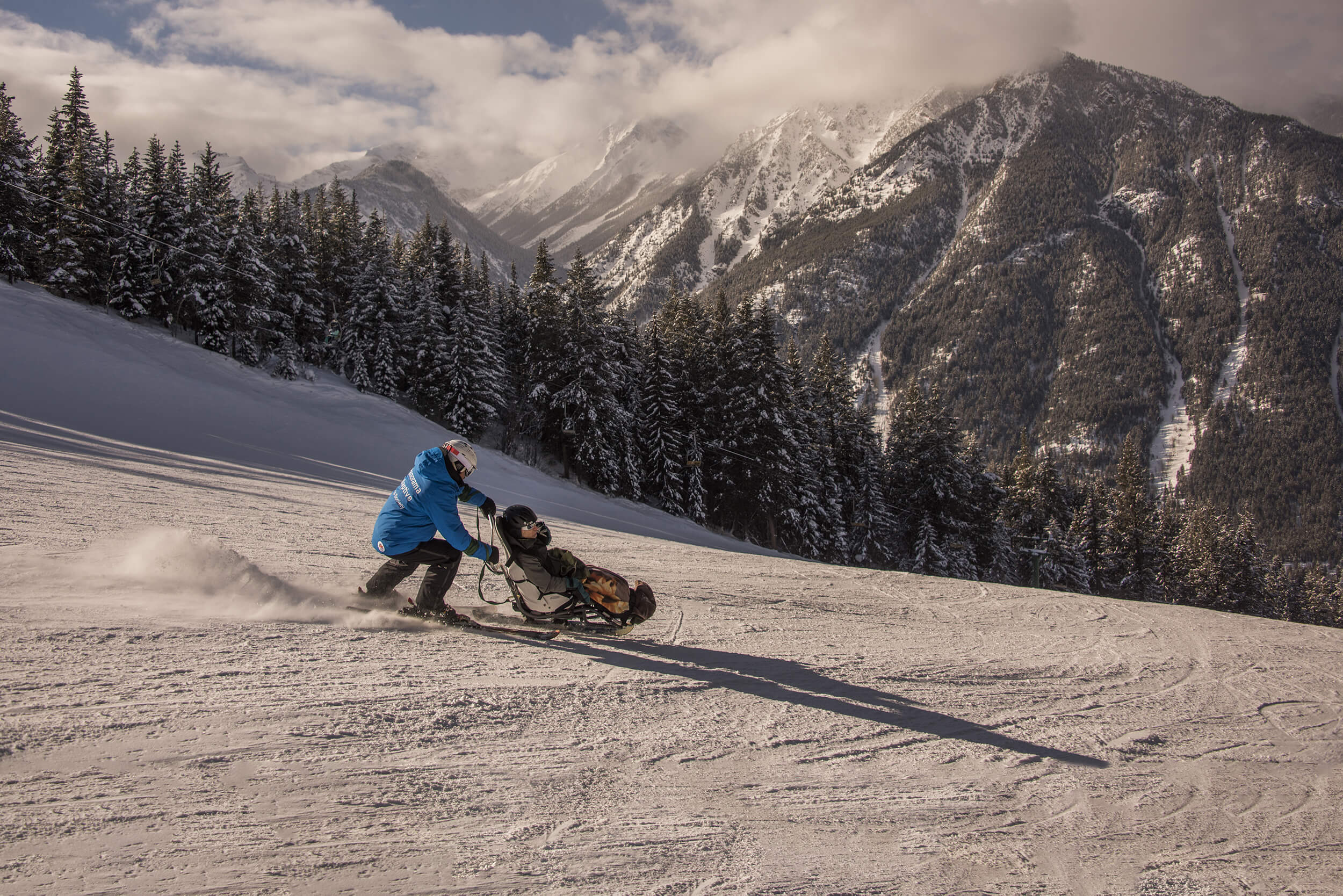 Red Mountain Resort, located in Rossland, BC,  is known for its incredible fall line, large terrain size, and relative "un-crowdedness."
This resort offers a variety of beginner packages, holiday camps, adaptive programs, and private and group lessons for all ages.  For the never-ever and notice skier or rider, they offer 'Discover Ski & Snowboard Packages'.  This lesson package is designed for anyone out there who has never skied or snowboarded before. Meet us at the Fall Line Ski and Snowboard School building for your first on snow experience with one of our professional instructors. Take advantage of our unbeatable beginner package which includes a 2-hour lesson, full rental setup and a Lower Mountain lift pass.
For adults, there are two, 5-week programs designed for both men and women to advance their skills on the slopes. Other adult weekly programs include 'Freestyle Fridays' which are 3-hour high intensity sessions geared towards riding fresh powder, steep tree skiing and moguls in black diamond terrain.
From ages 8-60+, there are plenty of programs to choose from. For the young, the resort offers competitive 'Free Ski Teams' for ages 8-18. For the seniors, 'Steeps & Deeps For Older Peeps' focuses on improving carving and riding techniques for ages 50 and over. A unique program to Red Mountain Resort, which isn't provided at other resorts, is 'Shred Sisters' which aims to get women comfortable hitting jumps, riding boxes, and practicing butters and spins.
In terms of back country education, Red offers 'AST Level 1' training as well as a variety of instructor certifications. All in all, this resort offers something for everyone, and you are guaranteed to leave feeling more confident in your skiing.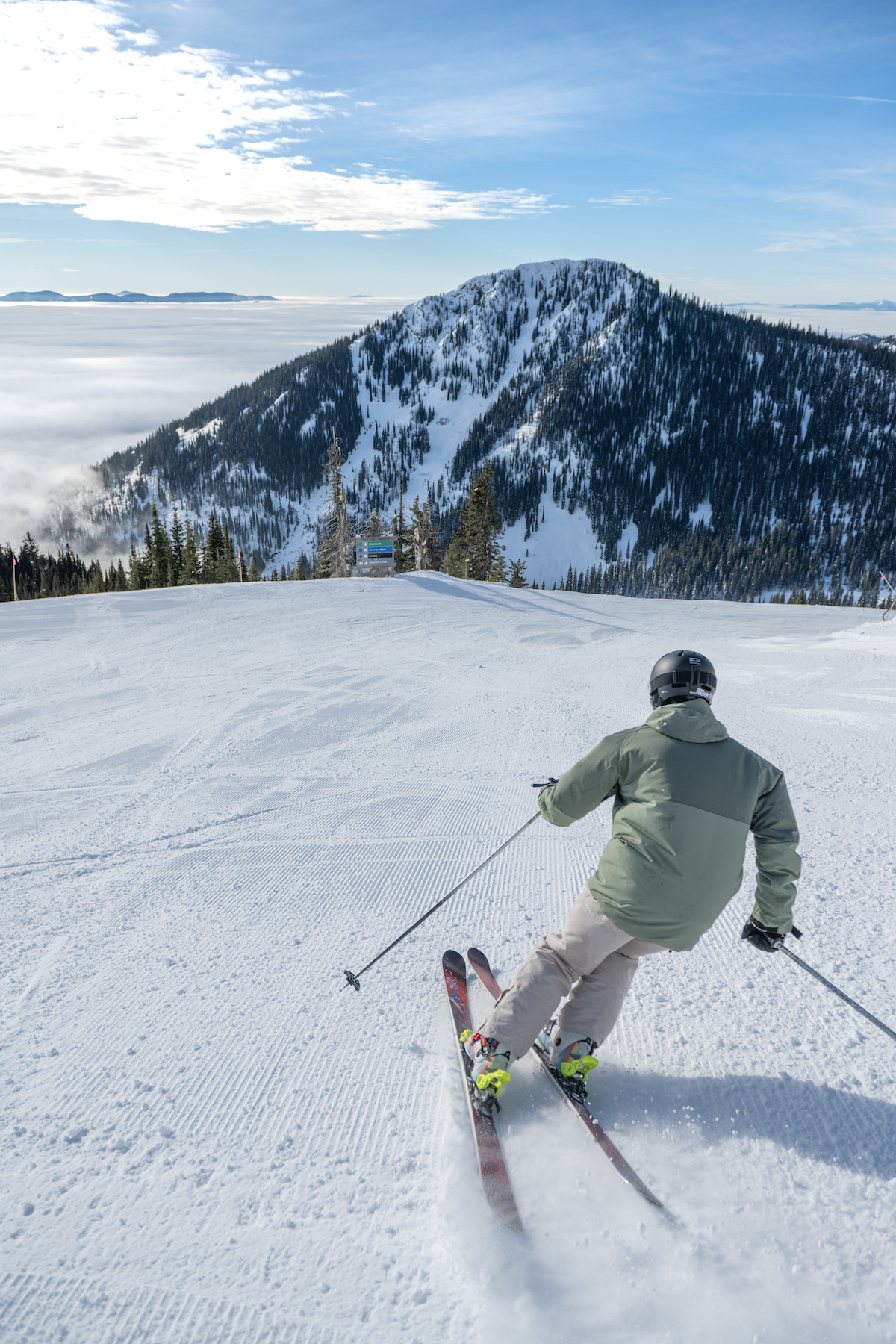 Revelstoke Mountain Resort, located in Revelstoke, BC,  is an exceptional skiing and winter destination – especially if you want to take your skiing to the next level. Boasting the most vertical elevation in North America, skiers can take their pick and enjoy wide-open bowls, gladed tree runs, steep chutes, or flowy groomers. Whether you are a beginner, intermediate or advanced skier, there are plenty of courses to take you to your ultimate potential. 
Revelstoke Mountain Resort offers a multitude of courses such as private/group lessons, holiday camps and backcountry programs. In a private lesson, 'VIP, Full and Half-Day' – is the perfect way to "learn to ski/board" and then work on your progression on the best terrain at the Resort.  
There are multi-week clinics for adults, such as 'Advanced Clinics' where you learn to ride from a professional ski instructor, and an 'Adult Freeride Program' a 10-week program where you gain confidence riding variable terrain. Revelstoke Mountain Resort also offers a 'First Tracks' program where guests will be guided to new terrain around the resort for an hour before everyone else arrives. 
A course unique to Revelstoke Mountain Resort is the 'Cat/Heli Prep' program that helps prepare you for the variety of terrain you will experience on your cat or heli-skiing trip. You can build your backcountry knowledge even further by taking Avalanche Skills training (AST Level 1), Instructor Certifications & instructor internship programs.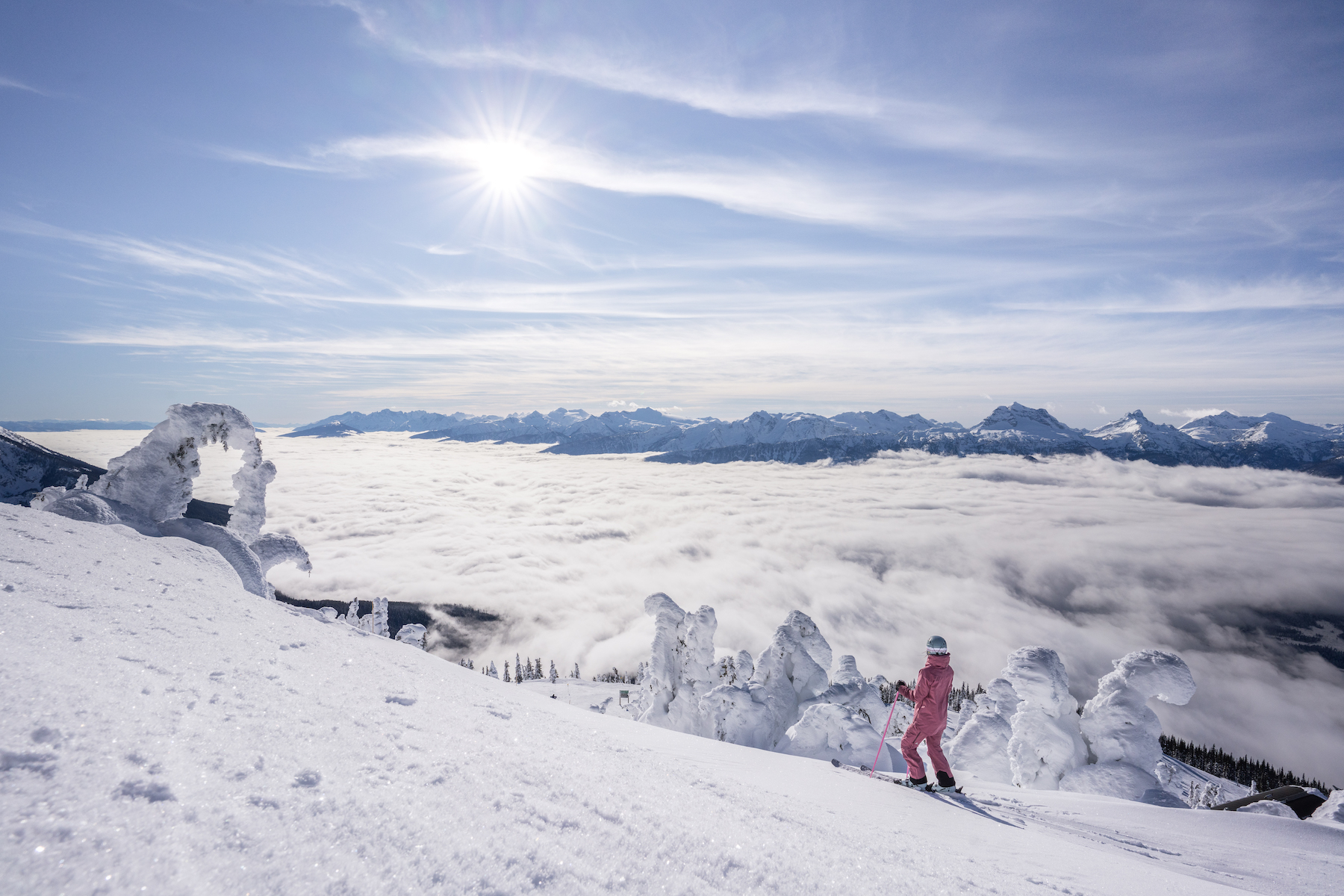 Whitewater Ski Resort, located near Nelson, BC, is known for its deep snow, low profile, amazing tree skiing and good backcountry options. Whether you are coming for beginner turns or advanced aggressive terrain, the resort has the perfect combination for the whole family.
For beginners, the resort offers a program called the 'Never Ever Days', which is an affordable package providing you with everything you need for success – equipment rental, lift ticket and a lesson. For intermediate and advanced skiers, you can take the 'Beyond the Piste' course where you learn to ride off-piste terrain, or 'Freedom Fridays' where you can hone your skills at steeps, trees, pillows and drops. If you would like to take a multi-week course, the resort offers a 5-week women's ski and snowboard course 'Women on Wednesdays.'
A program that is truly unique to Whitewater Ski Resort is the 'Apprentice Program'. This 9-week long course allows skiers 13+ to receive training towards the Level 1 Certification. To learn more advanced freeride skills, Whitewater also offers 'Freeride Teams' for ages 8-18 years old. This 12-week freeride training offers both ski and snowboard teams the opportunity to enhance skills in steep and treed terrain.