It was Hans Gmoser who made snowy adventure in the wild a reality. In 1965, the maverick mountain guide flew six skiers deep into the Purcell mountains via helicopter in pursuit of untracked slopes — a ground-breaking, historic journey that would redefine the boundaries of the sport, showcase the vast nature of BC's largely untapped landscape and spawn countless deep-powder operators, including Gmoser-founded industry icon Canadian Mountain Holidays (CMH).  Being first has its advantages — including having picked one of the best skiable areas in British Columbia.  Today their 12 luxury lodges (10 along the Powder Highway) are tucked in the Columbia mountains and have claimed a massive tenure; 1.2-million hectares (3-million acres) of ski/ridable terrain!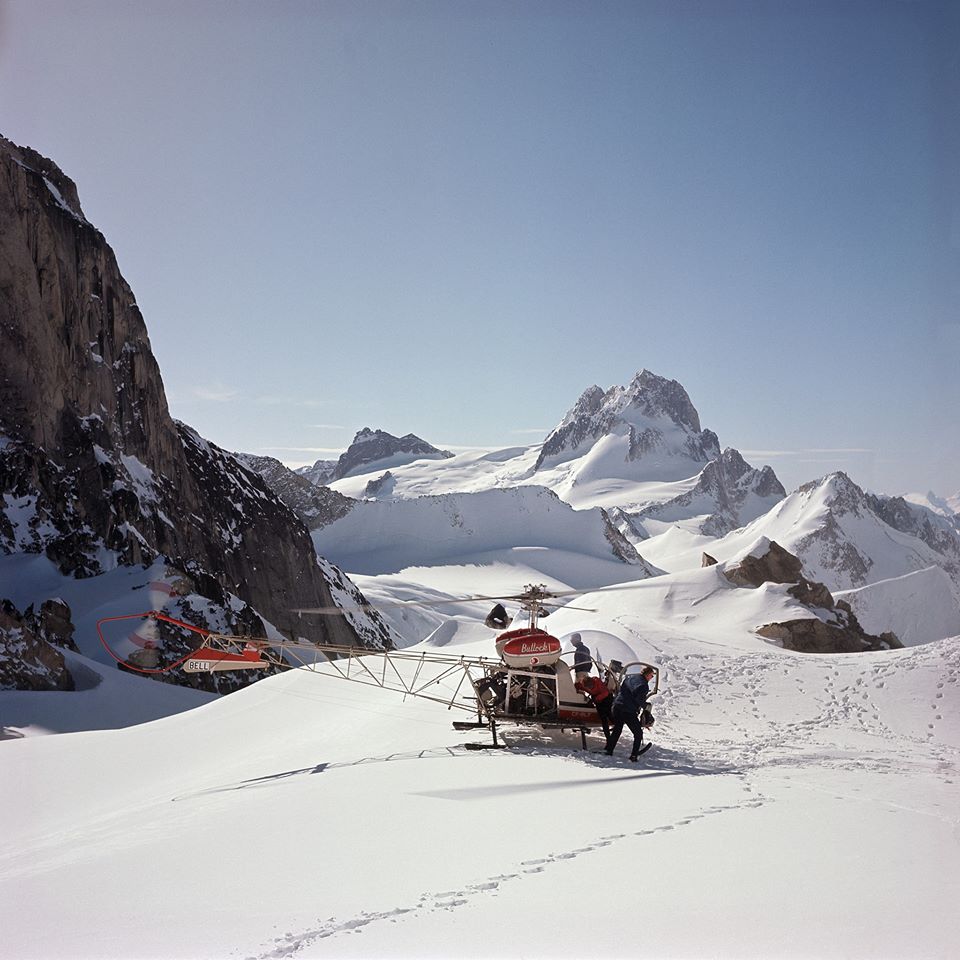 One of the first helicopters into the Purcell; photo courtesy of CMH Heli-Skiing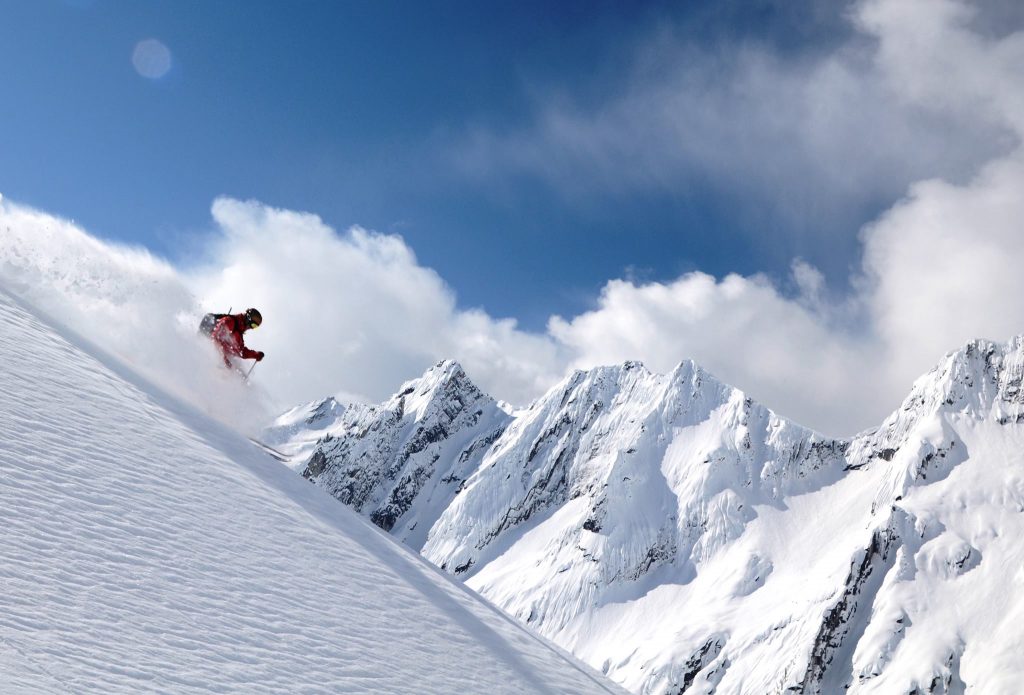 Heli-skiing today; photo courtesy of CMH Heli Skiing
Gmoser isn't the only non-conformist to carve his own path in the Kootenays, either; just 10 years after heli-skiing made its first tracks, snowcat-skiing nipped at its heels, thanks to the ingenuity of Selkirk Snowcat Skiing (formerly Selkirk Wilderness Skiing) Allan and Brenda Drury. The concept was simple: adventurers would tuck into the warmth of a snowcat, plying their way through powder to reach masses of snow in BC's remote regions, far beyond the boundary of a resort.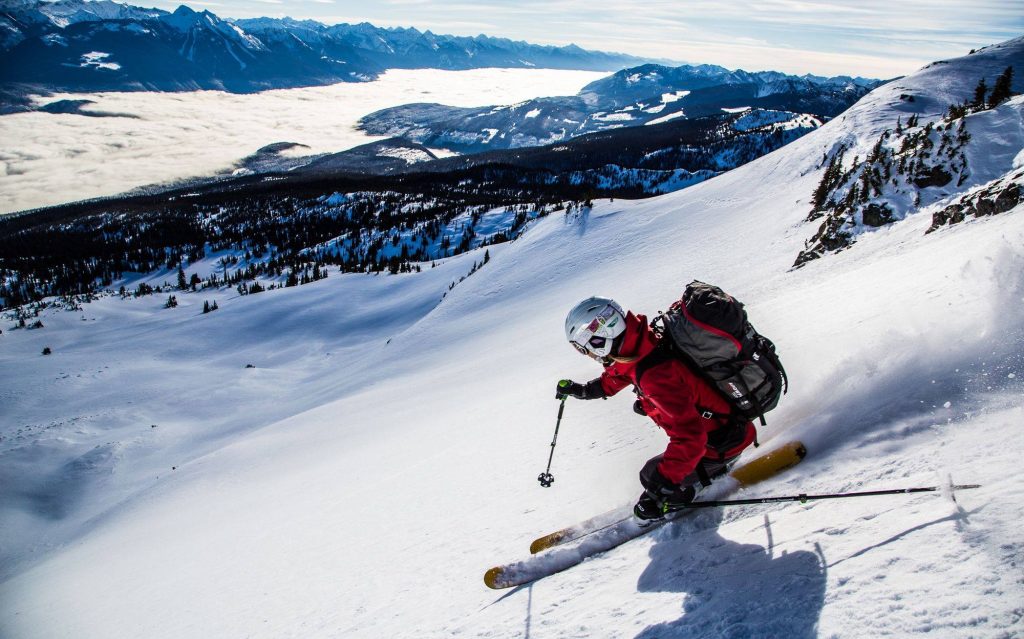 Throwback of Selkirk's incredible terrain; photo courtesy of Selkirk Snowcat Skiing
Over fifty years later, British Columbia has come a long way. Embracing the spirit of these early pioneers, their are 35 heli & cat-skiing operators along the Powder Highway, showcasing diversity within the sport that boasts few equals. You could, say, do a little day trippin' and venture out from a resort: RK Heliski Canada lifts off from Panorama Mountain Resort, guiding groups through expansive glaciers and glade skiing in the Purcell Mountains for over 50 years; while Selkirk Tangiers Heli Skiing delves into Selkirk and Monashee mountain terrain, accessed from the base of Revelstoke Mountain Resort or Purcell Heli-Skiing from Kicking Horse Mountain Resort, who takes small groups out in our Purcells (for the past 45 years) to explore the champagne powder.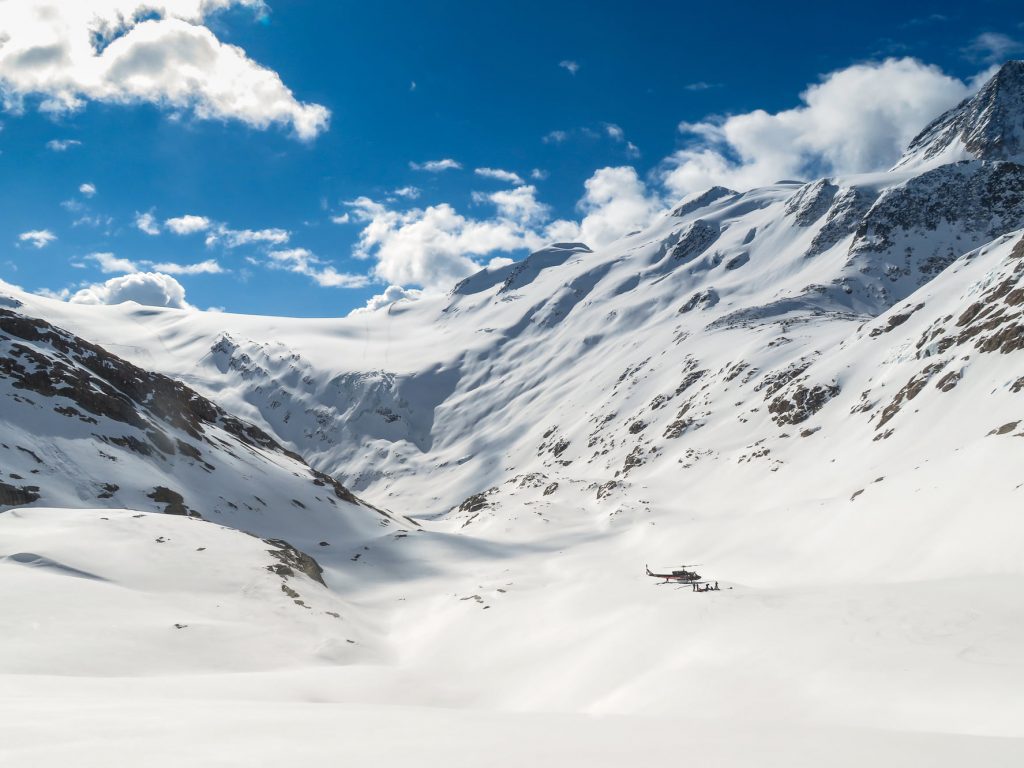 Photo courtesy of RK Heliski Canada in the Purcells (from the 2019/20 season)
If you prefer an old-school approach, opt instead for multi-day excursions that set up camp at remote lodges, complete with perks that include cosy accommodation and hearty menus to fuel the fire. Huge alpine, world-class steep tree skiing and endless pillow runs await.  And, you don't need to be an advanced skier or boarder to take on these uncharted territories, either. On the contrary; many operators are, in act, offering programs ideal for first-time heli- and cat-skiers/riders. 
So, where to start? Visit your one-stop-shop, the Powder Highway — it has the highest concentration of heli, cat, backcountry and alpine resorts in the WORLD! 
Know Before You Go – While we have a giant backyard to play in, the importance of safety is huge. Take an avalanche safety training course – whether you're a beginner or seasoned traveller, there's always something to learn. Ensure you have all the appropriate gear (avalanche transceiver, probe, shovel, airbag packs, emergency communication) and understand how to use every piece of that gear properly. Be aware of the current snowpack and avalanche risks within the area. Avalanche Canada is an incredible resource showcasing avalanche forecasts, providing free information and coordinate and deliver avalanche awareness and education programs to the public.
Related Stories
~ 9 Things to Aspire To Do on the Powder Highway
~ Backcountry Ski Touring: Step 1 Avalanche Safety Training
~ Guiding Services: Powder Highway's Backcountry
~ How BIG is the Powder Highway?
~ Keefer Lake Lodge: Bringing Snowcat Skiing to a Higher Elevation
~ Monashee Powder Snowcats: My Weekend in Skier's Heaven
~ Powder Highway 101
~ Up the Ante: Powder Highway Day Cat & Heli Packages
~ The Valhallas: Norse God Legend with Ice Creek Lodge
~ Winter Lunch, Snowshoe & Spa at Island Lake Lodge
Story by Destination BC. Top/cover photo courtesy of CMH Heli-Skiing, photo by Danny Stoffel.
Please tag your images with #KootRocks on Instagram to be featured in future stories.

(Original Story Published: October 3, 2014)