One unique fact about Kootenay Lake is it never completely freezes in the winter, so at any time during the year, you could enjoy typical summer activities like paddling, fishing, sailing (or even swimming) with the proper gear.
We were reminded of this by local historian Tom Lymbery from the Gray Creek Store, who let us know – "In my 90 years at Gray Creek on the eastern shore I saw part of Crawford Bay freeze in January 1951 but never any ice on the main lake". So clearly, we can lay claim that Kootenay Lake is 'BC's Largest Ice-Free Lake'.
But what really makes this lake remarkable are the tight-knit communities that line its shore.  Here's what makes them so special.
The East Shore
~ Highway 3A: Sirdar to Riondel (71-km, 1-hour drive)
If you haven't been into the Gray Creek Store, you are missing out. It is one of the most quirky and interesting shops on the planet. The store is jam-packed with anything you might need when visiting the area. And, interestingly enough, the shop has never transitioned to the metric system; it still uses the original imperial system.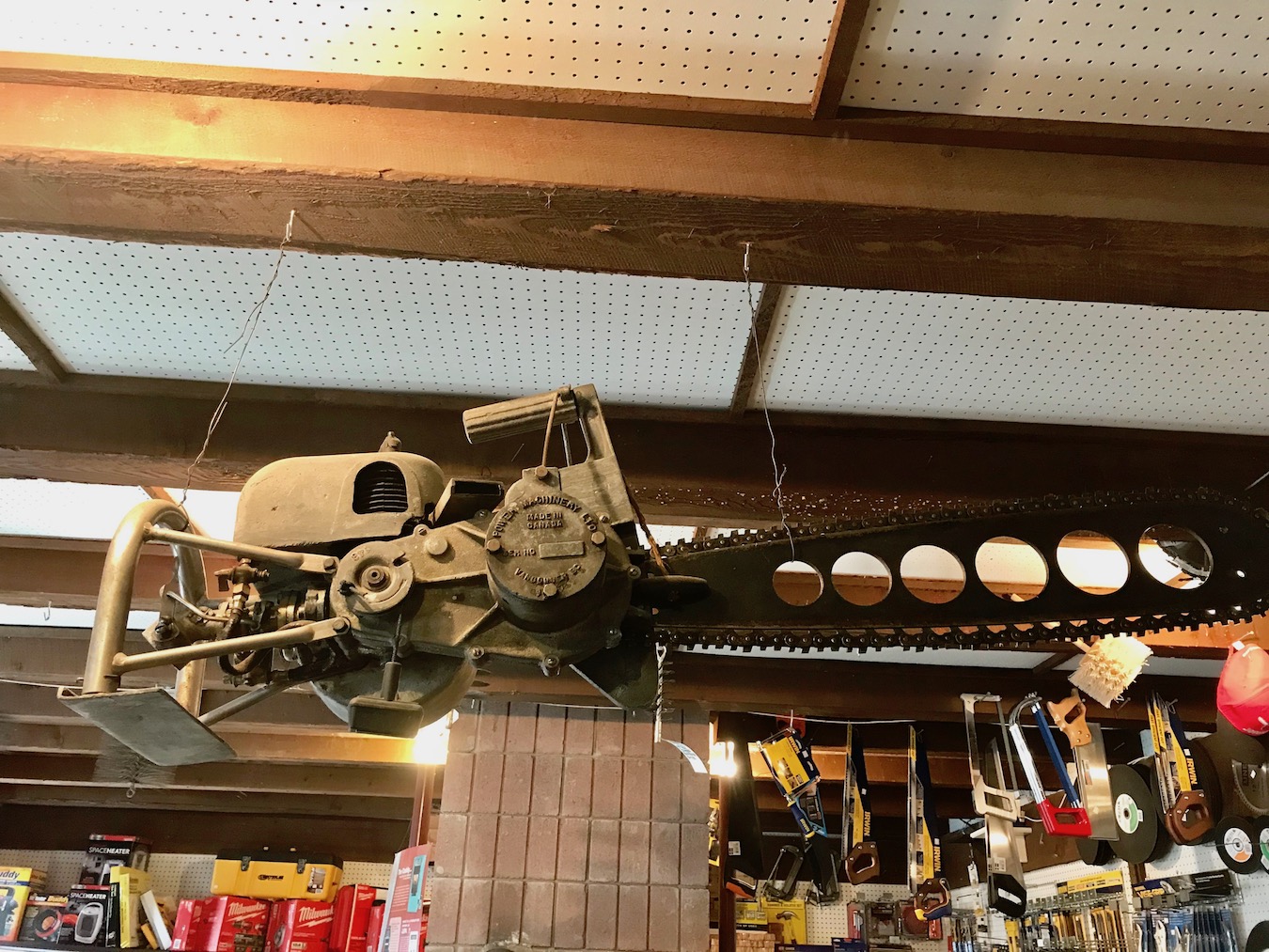 On display are various chainsaws from past years at the Gray Creek Store; photo by Shannon Harrison
Other interesting finds along this route include,  the Glass House near Boswell/Sanca. It is built with over 500,000 embalming jars. Also, be sure to check out the many talented artisans in Crawford Bay, the lighthouse at Pilot Bay Provincial Park and the sandy shores of Riondel and Garland Bay.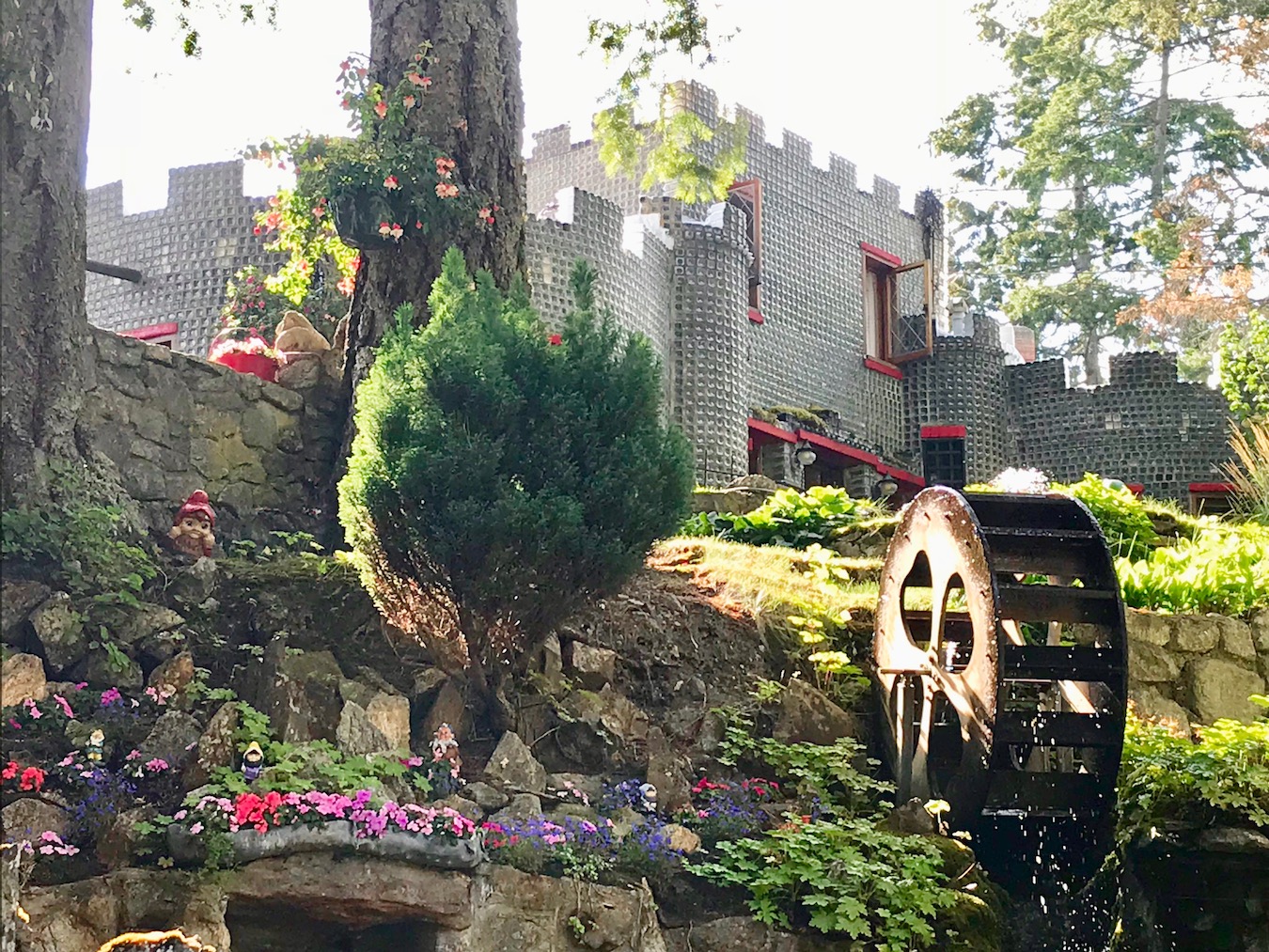 The Glass House at Sanca; photo by Shannon Harrison
Nelson
~ Highway 6/31: Nelson
Nelson is known for its distinctive mountain and cultural vibe. Creativity and passion flow naturally in the 'Queen City'.
"On any given day in Nelson, you'll find an eclectic crew", says local Gina Begin. You can see the town's personality, through its street music, varied restaurants, locally made clothing and local books and magazines.
With over a dozen local coffee shops and more restaurants per-capita in any other Kootenay town — Nelson continues to grow and impress both locals and visitors.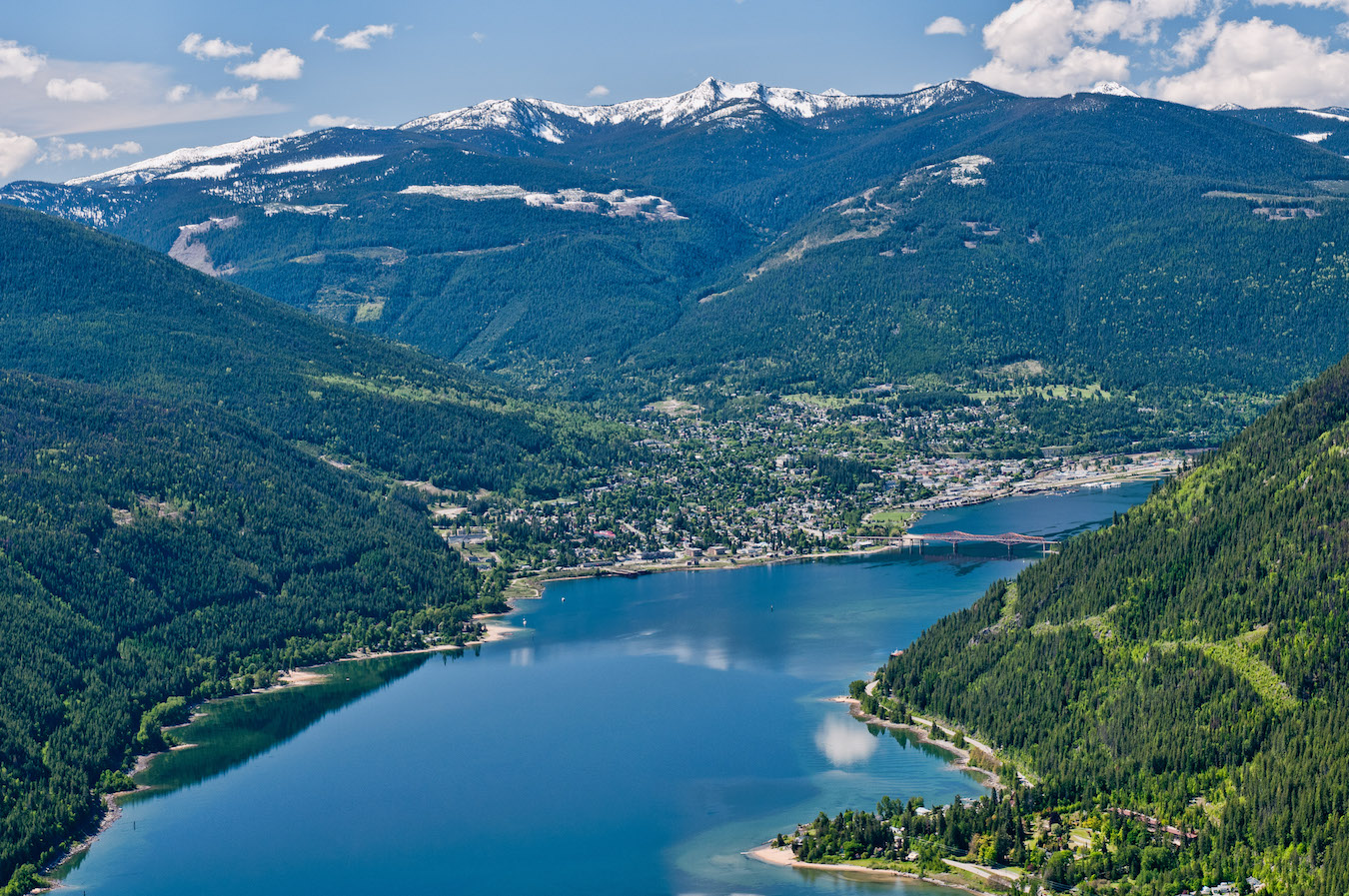 Aerial view of Nelson and Kootenay Lake; photo by David Gluns
The West Shore
~ Highway 3A/31: Nelson to Kaslo (70-km; 1-hour drive)
This popular shoreline drive connects Nelson to Balfour, Ainsworth and Kaslo. Beautiful views of Kootenay Lake are prominent. The drive offers access to two ferries: the Proctor/Harrop that accesses these two communities and the Balfour Ferry landing that connects Kootenay Bay and the communities along the East Shore. Both ferries are free, but it's the Kootenay Lake Ferry (Balfour to Kootenay Bay) that is famous for being the 'Longest Free Scenic Ferry Ride in the World' (with a 35-minute sailing time).
Another remarkable attraction along the route is Ainsworth Hot Springs and its horse-shoe shaped cave. Wellness bathers can soak in the natural pool or explore the steam cave with stalactites dripping from the ceiling. (Due to COVID the hot springs resort will be re-opening on Sep 4; from Wed to Sun.)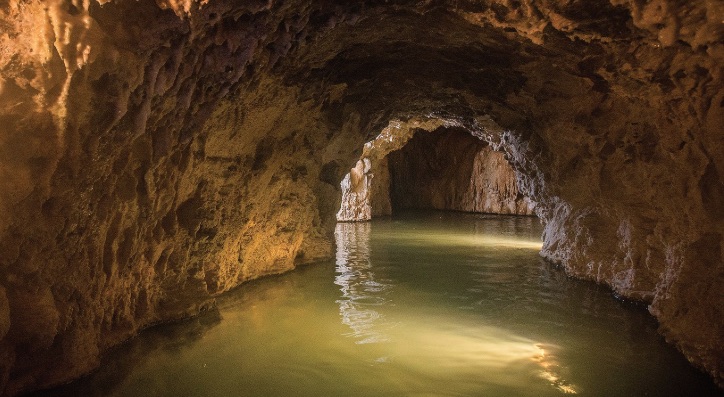 Inside the cave at Ainsworth Hot Springs Resort; photo courtesy of the resort. 
And not to be forgotten is the SS Moyie, the oldest surviving intact passenger sternwheeler in the world. Berthed at the edge of Kootenay Lake, this vessel rests permanently in her former port at Kaslo. Owned and operated by the Canadian Pacific Railway, the SS Moyie plied the waters of Kootenay Lake for nearly 60 years.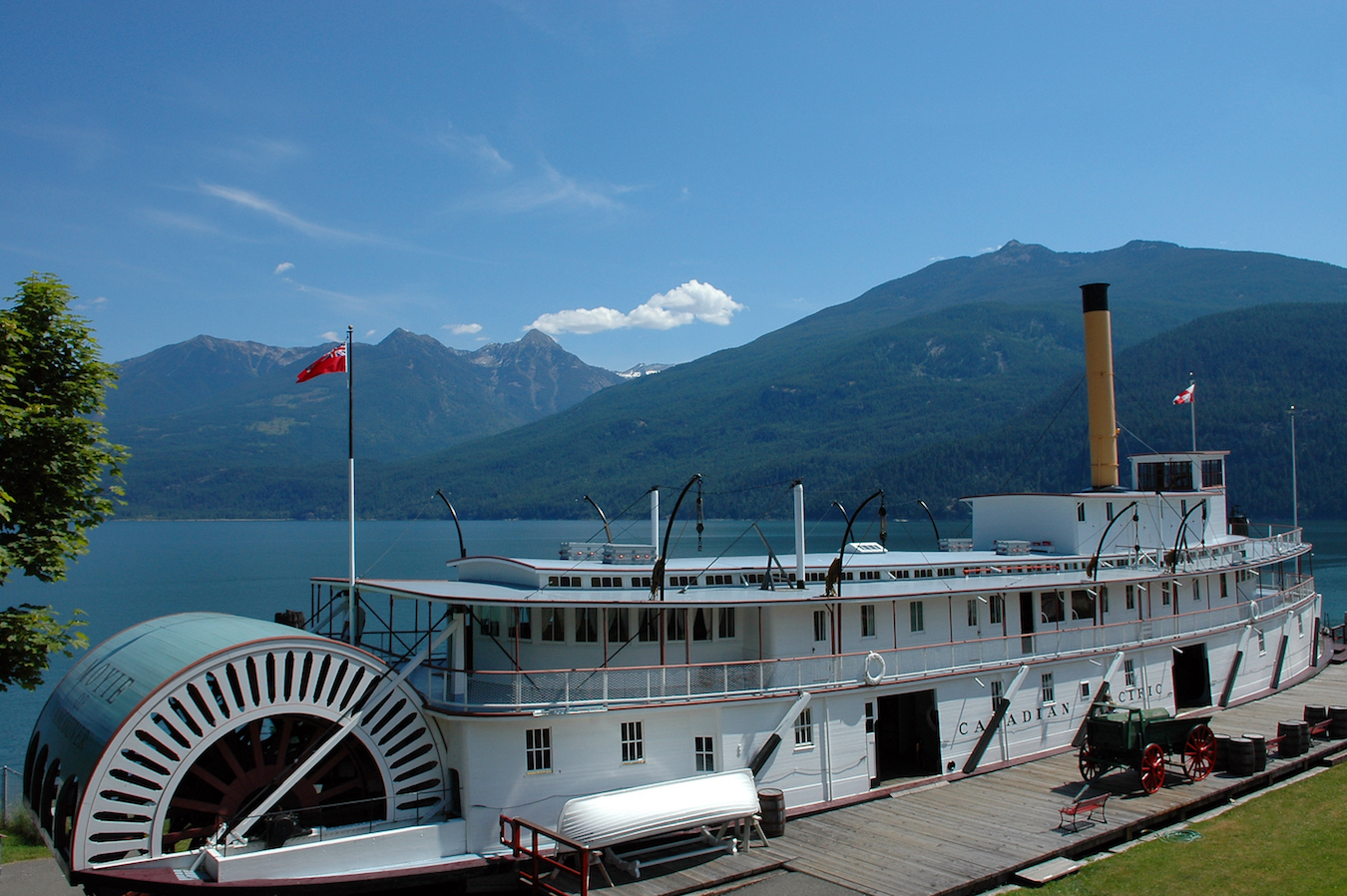 The SS Moyie in Kaslo; photo by Phil Best
The North End
~ Highway 31/Duncan FSR/Argenta Road: Kaslo to Johnsons Landing (52-km; 1-hour drive)
At the north end of Kootenay Lake, the very small settlements of Lardeau, Cooper Creek, Argenta and Johnsons Landing have a combined population of well under 1,000.The area was first settled by prospectors in search of riches, followed by homesteaders in the early 1900s. They were followed by residents who wanted to get back to nature or build sustainable communities. These settlements celebrate a more raw,  natural environment.
These secluded areas are also a starting point to many outstanding vista hikes, including, Mt. Loki, Monique Meadows, MacBeth Glacier, Jumbo Pass and the Earl Grey Pass.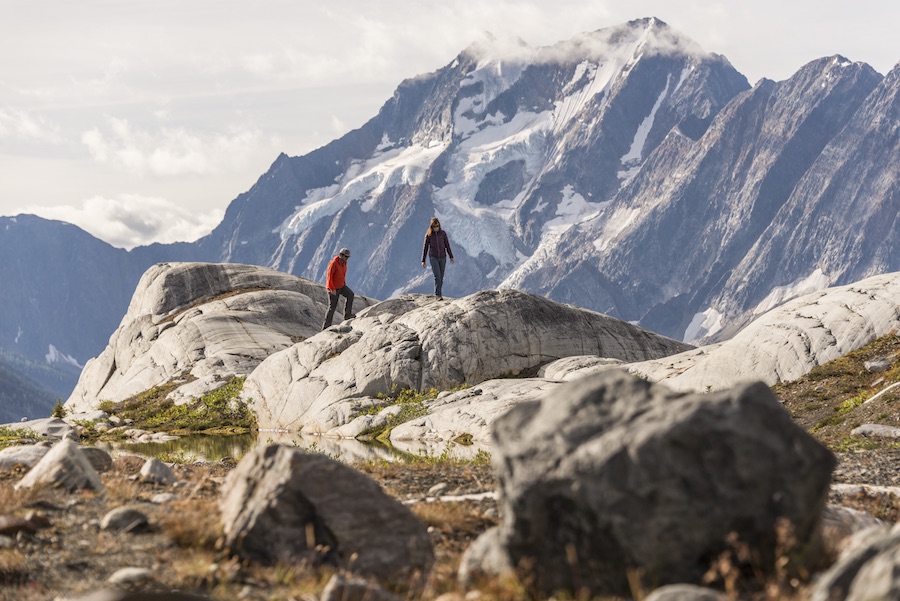 ~ Take extra time to research and plan your trip in advance. Many of our tourism businesses and services have adopted new COVID-19 protocols and changes to their schedules or policies to ensure your safety. You'll want to become familiar with them ahead of time.
~ If you normally travel with extended family or with several friends, consider travelling in a smaller group. Travelling with fewer people makes it easier for you to practise physical distancing in public, and may have less of an impact on the destination.
~ Consider a slower travel pace to help curb the spread. Instead of checking in and out of multiple destinations during one trip, choose one or two destinations and one/two accommodation properties for your entire trip (and explore all the things to do & see nearby).
Related Stories
~ 4 Reasons to Drive BC's Hidden Route: The Slocan Valley
~ Best Summit Hikes in the Kootenays
~ Easy Kootenay Hikes: To 360 Degree Vista Views
~ Quirky Attractions Only Found in the Kootenays
~ Tips: How to be a Safe & Responsible Traveller
Story by KootRocks Staffer (Shannon Harrison).  Cover/top photo by Dave Heath of the Kootenay Lake Ferry.
Please tag your images with #KootRocks on Instagram to be featured in future stories.